February 15, 2022
New in March at Smithsonian's "FUTURES," Cyborgs and Gaming Take Visitors Beyond Human Limits
Plus, Augmented Reality Cherry Blossoms Will Float Across the City, and a Monthlong #WomensFuturesMonth Festival Will Explore Living in Space and STEM Careers for Girl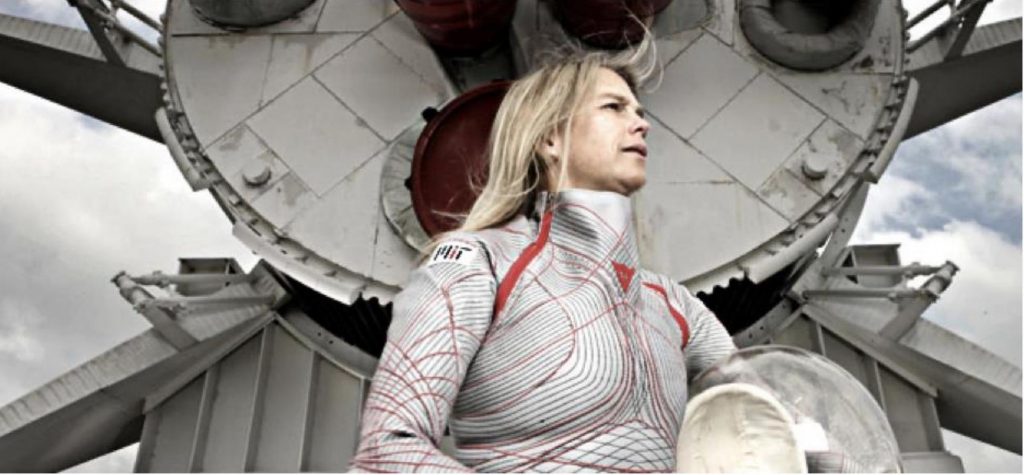 "FUTURES" at the Smithsonian's Arts and Industries Building promises to bubble over with curiosity in March, with a new slate of programs and pop-ups that reimagine everything from spacesuits to women's history to the five senses.

If people could hack their senses, what would they add? Would they have sonar like dolphins, track tectonic activity like elephants, or hear color? Starting March 3, the Cyborg Arts Foundation, led by cyborgs and artists Moon Ribas and Neil Harbisson, will debut a new installation in the FUTURES Play Lab. The group will explore new creative technologies that are embedded in peoples' bodies and share what it's like to live with those enhancements. They will also be March's "Futurists-in-Residence," spotlighting different "artificial senses" all month long on social media @smithsonianaib. To culminate the residency, everyone is invited to a rollicking late-night "Cyborg Birthday Party" Friday, March 25 at 7 p.m. ET, exploring perception and the senses and celebrating Harbisson's 18th year as a cyborg.

Highlighting another form of adaptation, visitors to "FUTURES" can play the popular video game Minecraft using EyeMine, an adaptive technology that allows gamers with disabilities—over 46 million in the U.S.—to play a video game using just the movement of their eyes. "Tell Me More: Gamechangers" on Thursday, March 24 at 6:30 p.m. ET brings together an all-women panel of gamers, designers, and therapists to talk about the accessible future of game play and the worlds that open up with eye control.

Timed with the start of the National Cherry Blossom Festival on March 20, augmented reality (AR) artist Tamiko Thiel will expand her work "Suspended Spring" to be available across the Washington, D.C. region. The ethereal art experience, available through Thiel's custom ARpoise app, will invite the viewer to look through their smartphone to be surrounded by a poetic swirl of cherry blossom petals, wherever they are in the city, accompanied by the sound of the Japanese folksong "Sakura." Theil's "ReWildAR," an AR experience that transforms AIB into a future wildflower meadow, is currently on view in "FUTURES."

A new take on Women's History Month, #WomensFuturesMonth at AIB will be a celebration of all the ways women are transforming the world today and into tomorrow. Virtual and in-person programs include:
–"Meet Us in the FUTURES: Women in Media" (virtual); Thursday, March 3, 6:30 p.m. ET: What would it look like to prioritize the inclusion of female-led perspectives in the world of media? What changes could society see? This special program will feature trailblazing women in media such as Cierra Glaude who is a director behind the award-winning Ava DuVernay OWN drama Queen Sugar, documentary photographer Dee Dwyer and award-winning entertainment journalist Gia Peppers.

–"Work it! FUTURES Career Day" (in person); Saturday, March 5, 12–4 p.m. ET: Visitors can hear what it takes to design video games, run an aquarium, build the next YouTube, probe the human brain, engineer rockets, and discover hidden jungles. Calling all young scientists, innovators, inventors, and creators for a career day—from the futures! They can get advice and inspiration on the jobs of tomorrow by getting a chance to meet pioneering women at the top of their fields and tour the opening of "#IfThenShe Can-The Exhibit," a groundbreaking display of 120 3D-printed statues of women in STEM

–"Spark the FUTURES: Science Family Day" (in person); Sunday, March 6, 10 a.m.–3 p.m. ET: To help AIB celebrate the power of girls and women in STEM shaping a better future, visitors can meet real scientists and see their work in action. They can explore their contributions to a more hopeful future on kid-friendly tours, stop by for pop-up talks and join in with hands-on science demos and crafts for all ages. This is also the opening weekend of "#IfThenShe Can-The Exhibit."

–"Tell Me More: Living in Space" (virtual and in person); Thursday, March 10, 6:30 p.m. ET: A newly developed spacesuit prototype called a BioSuit could give astronauts of all sizes the ability to travel to space. Audiences can join inventor and aerospace engineer Dava Newman—the first woman director of MIT Media Lab—to peel back the curtain and imagine a future where anyone can live and work in space.
-"Fridays @ FUTURES" (in-person); Friday, March 11, 18, 25, 5:30–7 p.m. ET: Friday night in "FUTURES," visitors can start the weekend off right with a generous helping of new ideas and surprising brain snacks. They can explore the entire exhibition until 7 p.m. and keep coming back each week for a new and interesting take on the future through special tours, pop-up experiences, guest speakers and more. Free and open to drop-ins, no advance registration is required.
For more details about the programs, the public can visit aib.si.edu/happenings. Livestreaming for programs is supported by Comcast NBCUniversal. "Work it! FUTURES Career Day" and "Spark the FUTURES: Science Family Day" are made possible by Lyda Hill Philanthropies and the IF/THEN Initiative.

About FUTURES
"FUTURES" is the Smithsonian's first major building-wide exploration of the future and temporarily reopens its oldest museum for the first time in nearly two decades. The part-exhibition, part-festival, designed by award-winning architecture firm Rockwell Group, celebrates the Smithsonian's 175th anniversary with more than 150 awe-inspiring objects, ideas, prototypes and installations that fuse art, technology, design and history to help visitors imagine many possible futures on the horizon.
On view through July 6, "FUTURES" is currently open Thursday through Sunday from 10 a.m. to 5:30 p.m., with extended hours until 7 p.m. on Fridays and Saturdays. Admission is free, and no timed tickets are currently required. For more information and to plan a visit, the public can go to aib.si.edu.
"FUTURES" is made possible by a select group of sponsors and supporters: Amazon Web Services, Autodesk, Bell Textron Inc., Jacqueline B. Mars, John and Adrienne Mars, the Embassy of the State of Qatar, David M. Rubenstein, and SoftBank Group. Major support is also provided by the Annenberg Foundation, Bloomberg Philanthropies, Kevin S. Bright and Claudia W. Bright, and Robert Kogod. Additional funding is provided by Accenture, John Brock III, Comcast NBCUniversal, Events DC, First Solar, Ford Motor Company, Wendy Dayton, Charlie and Nancy Hogan, the Suzanne Nora Johnson and David Johnson Foundation, Lyda Hill Philanthropies, MedWand Solutions, National Football League, the National Football Players Association and Oracle.
About the Arts + Industries Building
The Arts and Industries Building (AIB) is a home for the future-curious. The Smithsonian's second-oldest building opened in 1881 as America's first National Museum, an architectural icon in the heart of the National Mall. Its soaring halls introduced millions to wonders about to change the world—Edison's lightbulb, the first telephone, Apollo rockets. Dubbed "Palace of Wonders" and "Mother of Museums," AIB incubated new Smithsonian museums for over 120 years before finally closing to the public in 2004. "FUTURES" is a milestone first step in the long-term plan to renovate and permanently reopen this landmark space. For more information, visit aib.si.edu. Follow the museum on Facebook, Instagram and Twitter.