Tamiko Thiel and /p's ReWildAR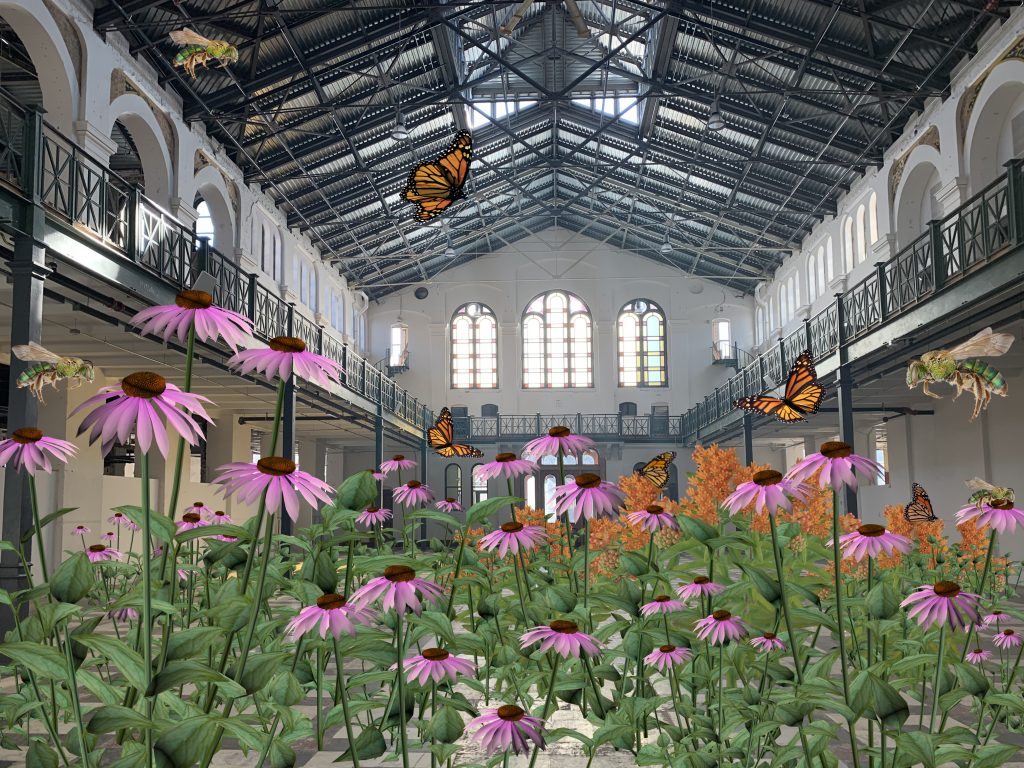 Watch as the Futures that Inspire hall transforms into an overgrown wildflower meadow, bursting with virtual flowers and insects, thanks to an augmented reality overlay from Munich-based new media artists Tamiko Thiel and collaborator /p. ReWildAR will expand how you see the world as you "see" into the vast surreal future landscape in real time and space.
Thiel collaborated closely with Smithsonian horticulture experts to create this working ecosystem of a future Washington, D.C., affected by climate change but still in symbiosis with human life. Known for being on the leading edge of computer technology, Thiel designed the form of the first commercial A.I. supercomputer in 1986, which is in the Smithsonian's National Museum of American History.
New for Washington DC's National Cherry Blossom Festival:
For the first time in Washington, D.C., experience the poetic beauty of swirling cherry blossoms anywhere, anytime. Timed with the start of the National Cherry Blossom Festival, this augmented reality (AR) artwork from acclaimed digital artist Tamiko Thiel will be available across the DC region through the free AR app, ARpoise. Download and look through your smartphone's or tablet's screen to see your surroundings transformed into a meditative experience honoring the exquisite and fleeting beauty of spring's cherry blossoms, accompanied by a meditative variation of the Japanese folksong "Sakura." 
From Thiel: "In April 2020, the Nantesbuch Foundation commissioned 100 artists to create works dealing with nature during the first COVID lockdown. I was isolated in my apartment, watching the spring foliage and flowers burst into life all around me. In Japanese culture "sakura"—cherry blossoms—symbolize the ephemeral beauty of spring, and indeed of life itself. Suspended Spring, with its swirl of cherry blossoms that follow you wherever you go, captures my feeling of wanting to slow down time, hold onto that fleeting moment. Wanting to draw it out as endlessly as I drew out the music to the folk song 'Sakura.'" 
Suspended Spring
Augmented Reality Installation
Tamiko Thiel, 2020
Originally commissioned by the Nantesbuch Foundation.
Video: https://youtu.be/4a4afq_DzE0
READ MORE
ARTNET: To Celebrate Its 175th Birthday, The Smithsonian Will Stage Blowout Exhibition featuring Five New Commissions
read more
SMITHSONIAN MAGAZINE: IMMERSE YOURSELF IN FIVE FUTURISTIC WORLDS
read more
SEE MORE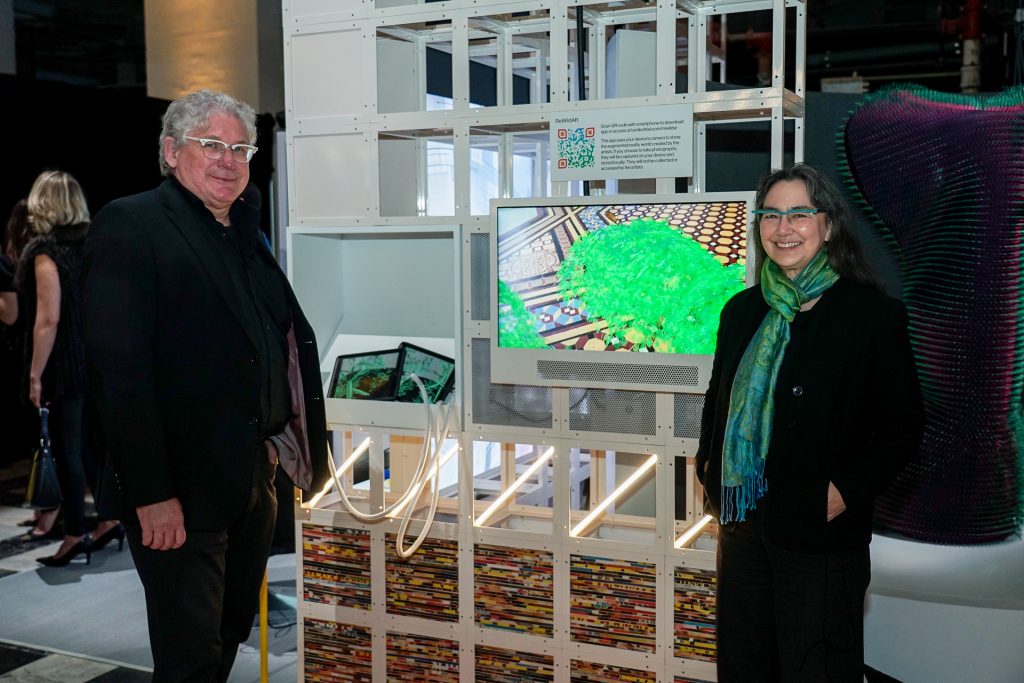 Artist Statement
'Rewilding' the city means transforming all available open areas (including parks and rooftops) from carefully mono-cultivated gardens into wildflower meadows, wetlands, and natural habitats teeming with biodiversity. With the changing climate, scientists predict that D.C. will become hotter and more humid, similar to the weather in Georgia or Florida today. Taking this into account, ReWildAR will feature plants and insects indigenous not just to the D.C. area but as far south as southern Georgia and northern Florida. Through the virtual ReWildAR installation, visitors will be able to see the Smithsonian's Arts and Industries Building (AIB) become an expansive wildflower meadow, bursting with virtual flowers and insects, in wetlands that were once The Mall, the Tidal Basin and the East Potomac Golf Course. Visitors can expect to see dogwood flowers with Short-Haired Dogwood Mining Bee pollinators, and milkweed leaves with monarch caterpillars, and flowers with monarch butterflies.
Visitors can access and experience the ReWildAR installation through their mobile smartphones and tablets. Think of these mobile devices as AR-scopes through which you peer into another dimension. You are not looking at an "image" on your phone; you are looking through your screen into a speculative vision of what the future could look like from where you're standing.
My process is really quite the same in pure art museums and in more science-focused institutions. I like to start my art projects with a base in the real world, and do a lot of research to understand for instance the particulars of climate and climate change that would affect a particular site. As I develop the visual and experiential aspects of the artwork further, I like to bring in a bit of a science fiction narrative because it allows the artwork to become more playful, surreal and symbolic. The art world has become used to art projects crossing over the boundaries into science projects, and in general really embraces this approach, and science museums embrace science fiction in order to loosen the confines of our imagination and fantasize alternative futures. ReWildAR builds on commissions I did in 2016 for "Gardens of the Anthropocene," in which native plants mutate to survive climate change in the Seattle Art Museum's Olympic Sculpture Park, and in collaboration with Will Pappenheimer in 2013 in "Biomer Skelters," a biosensor-driven native vs. invasive planting takeover of the city for FACT Liverpool.
I personally find the insights from science, and in this particular instance from Smithsonian horticulture experts Holly Walker, James Gagliardi and Janet Draper to be as wondrous as any insights that art can bring – as Dante is alleged to have said, "Nature is the art of God." The wealth of knowledge at the Smithsonian has given me enough ideas for several artworks, and my only regret is that I can only realize part of them by November!
About Tamiko Thiel and /p
Tamiko Thiel was awarded the Society for Art and Technology Montreal's 2018 Visionary Pioneer Award for over 35 years exploring place, space, the body and cultural identity in political and socially critical artworks. Her first major work was as lead product designer on the Connection Machine CM-1/CM-2 (1986/1987), the first commercial artificial intelligence (AI) supercomputer, and in 1989 the fastest computer in the world. CMs influenced Google's AI technology and Steve Jobs' designs, and are in the collections of the Museum of Modern Art New York and the Smithsonian Institution.
Her first work in virtual reality (VR) was as creative director/producer of Starbright World (1994-1997), an online virtual play space for seriously ill children, in collaboration with Steven Spielberg. Her notable VR artworks include Beyond Manzanar (2000), which premiered in 2000 at the Tokyo Metropolitan Museum of Photography and in 2002 was acquired for the collection of the San Jose Museum of Art/Silicon Valley, perhaps the first VR acquisition by a US museum. She created Land of Cloud (2017) as GoogleVR Tilt Brush artist in residence, which won the VRHAM audience award in 2018.
She is a founding member of the augmented reality (AR) artist group Manifest.AR, participating in their path-breaking AR intervention at MoMA NY in 2010 with ARt Critic Face Matrix, and main curator/organizer of their intervention into the 2011 Venice Biennial with Shades of Absence. This led to many commissions and invitational shows, notably at the Istanbul Biennial in 2011, FACT Liverpool in 2013 and the Seattle Art Museum in 2016.
Since 2018 Tamiko has been collaborating with the artist /p. In 2018 curator Christiane Paul commissioned their AR installation Unexpected Growth for the Whitney Museum in New York. The first edition is in the Whitney's collection, and the second edition is in a sale auction at Christie's New York from May 25th – June 3rd. In 2020 Tamiko and /p created the participatory AI deepfake art installation Lend Me Your Face!, which premiered in the Artists' Association exhibit in Haus der Kunst in 2020, and then in 2021 the online net art version Go Fake Yourself!, commissioned by The Photographers' Gallery London.