America's first national museum
More than a museum, the Arts + Industries Building (AIB) is a part of our nation's history. Incubator, hall of invention, "mother of museums," a destination for big ideas for more than 140 years, AIB is now poised for the next great chapter in its impressive story.
1881
The first National Museum of the United States opens in Washington, D.C. with its first event, President James Garfield's Inaugural Ball
More than a museum
AIB was a grand experiment, a dream realized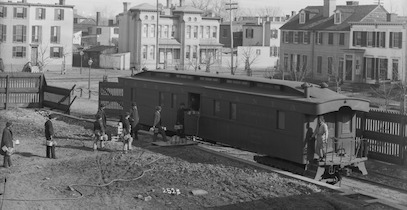 1876 — World's Fair sparks new museum
It's 1876 and the first great American World's Fair opens in Philadelphia. The wildly popular exposition (which debuted both ketchup AND waffles) has an ingenious double purpose: Congress orders that a portion of the ticket proceeds will fund the construction of a permanent home for the World's Fair exhibits in Washington, D.C. Sixty train cars of wonders and curiosities will be shipped to the Smithsonian to get ready to go on display.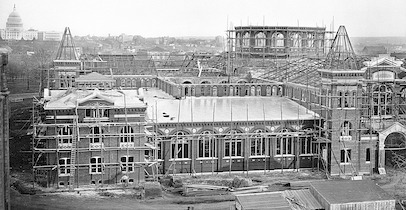 1879 — '19th century green'
Architect Adolf Cluss designs a new type of building, inspired by the grand expo halls. He demands fresh air and natural light in every space, and the use of local materials wherever possible. The new National Museum's construction is far ahead of its time, sustainable, efficient, and stunningly elegant.
Read more
about the construction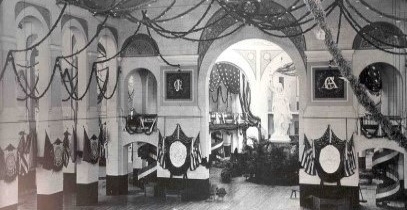 1881 — A Presidential opening party
The first event held in the National Museum is President James Garfield's inaugural ball March 4, 1881. In the rotunda, a colossal 'Statue of America' holds up Edison's new electric light, symbolizing the "skill, genius, progress, and civilization of America." A 26-year-old John Philip Sousa leads the Marine Band under the glow of 3,000 gas lights, festive buntings, and state flags and seals.
– George Brown Goode, AIB's first curator (1889)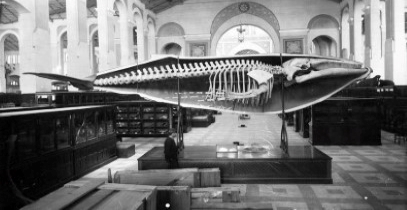 1881 — Palace of Wonders Opens
Dubbed America's 'Palace of Wonders,' eager crowds flood the new National Museum to see Japanese pagodas, Alexander Graham Bell's telephone, the first cast of a blue whale—remarkable Smithsonian treasures that reveal a world more exciting than we ever imagined. Vast halls showcase geology, metallurgy, zoology, medicine, anthropology, art, history—plus technologies such as ceramics, printing, transportation, textiles, fisheries, and agriculture.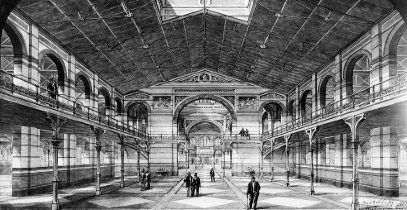 1899 — Prototyping a modern museum
Beginning as largely a research institution, the Smithsonian continues to activate AIB with its groundbreaking mission: "to teach and uplift." Much of what we think of as a museum today emerged from early experiments in AIB: descriptive labels to explain what people are seeing; new ways of organizing displays to tell stories; 'pop culture' collections; and even 'living animal' exhibits that introduce budding scientists to real wildlife (an initiative so popular it grows into the National Zoo).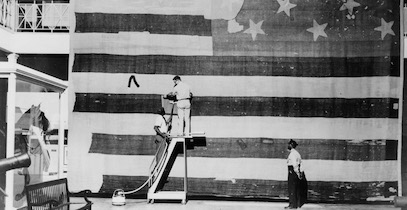 1907 — America's treasures on display
The U.S. has a home not just for objects, but for ideas, to move a young nation forward. AIB is a destination for people from all walks of life to come together to celebrate uniquely American stories of ingenuity. Early displays feature rare objects such as the Star-Spangled Banner and inventions like the steam engine. AIB is known as the home of America's greatest treasures, open for free to any visitor to explore the country's accomplishments.
1911
AIB's overflowing cases of animals, plants, and geologic treasures give rise to the National Museum of Natural History
'A house full of ideas'
Growing the Smithsonian over 120 Years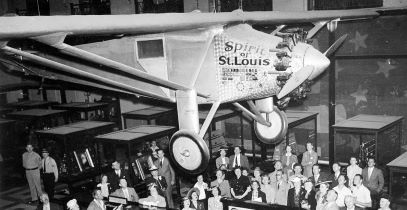 1912 — History as it happens
AIB's halls are able to showcase history as it happens in near real-time. In 1912, First Lady Helen Taft donates her inaugural gown to the National Museum, starting the popular First Ladies Gown Collection. Charles Lindbergh flies the Spirit of St Louis to Washington, D.C. in 1928, donating it to the Smithsonian and seeing it hung in AIB's North Hall just two weeks later. In 1969, Apollo 11 astronauts unveil the first moon rock brought back to Earth in AIB's rotunda, a few months after the first lunar landing.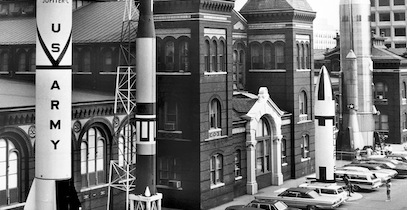 1910-1980 — Mother of museums
AIB incubates seven Smithsonian collections that grow into their own museums—Natural History, American History, Air and Space, and more—and labs that grow into research centers. Its halls transform every decade to house new experiments, from early citizen science projects to chemistry labs to the Smithsonian's first computer.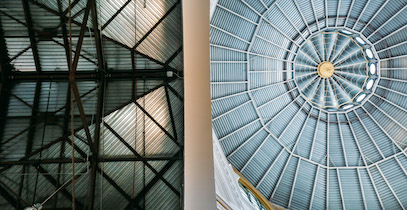 2004 — Closure and restoration
In 2004, a severe snowstorm raises concerns about the structure of the 120-year-old building and it closes to the public. In 2014, an intensive restoration project stabilizes the historic exterior, 2 ½ acre roof and 900+ windows. The interior remains in its original state, setting the stage for a historic full renovation.
Read more
about the restoration
11/22/21-7/6/22
FUTURES was the first building-wide exploration of the future on the National Mall, your guide to a vast array of interactives, artworks, technologies, and ideas that are glimpses into humanity's next chapter. Stay tuned for info about the Arts + Industries Building's next exciting chapter!
FUTURES exhibition