Skip to main content
February 11, 2022
Smithsonian Launches New 'Women's Futures Month' With National Mall Debut of 120 Statues Celebrating Women in STEM
Smithsonian Partners With IF/THEN To Display the Largest Collection of Statues of Women Ever Assembled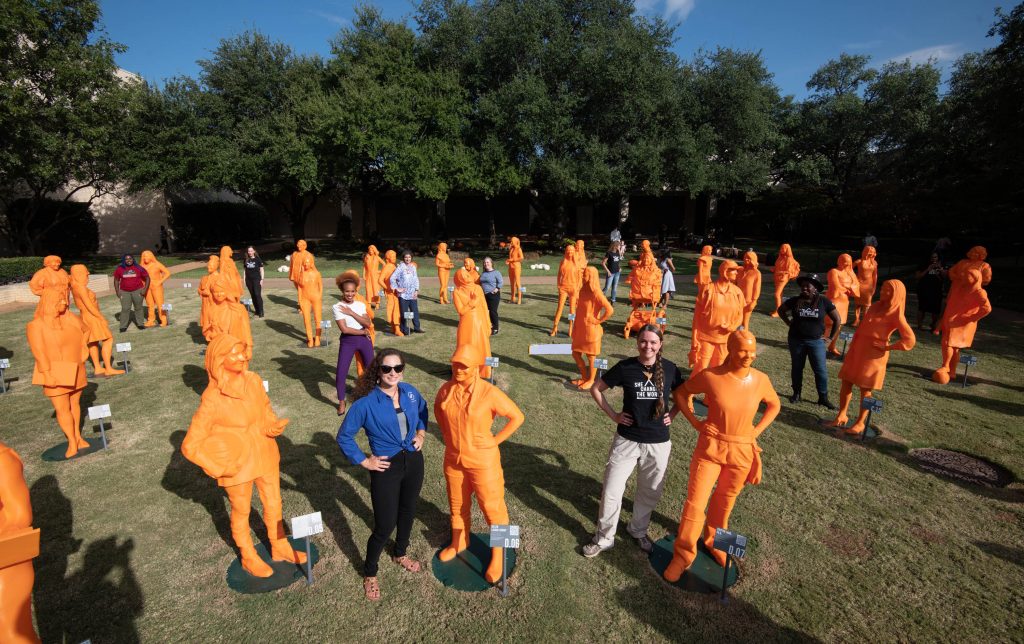 The Smithsonian will shake up Women's History Month in March with a new Women's Futures Month, a forward-looking celebration of the power of women and girls in STEM (science, technology, engineering, mathematics) to shape a better world. To kick off the month, the Smithsonian will present "#IfThenSheCan – The Exhibit," a collection of 120 statues of women in STEM. On display in Smithsonian gardens and in and around select Smithsonian museums March 5–27, the exhibit is the largest collection of statues of women ever assembled together. 

The 120 life-size 3D-printed statues are of a diverse coalition of contemporary women STEM innovators and role models leading a variety of fields, from protecting wildlife, discovering galaxies, building YouTube's platform, to trying to cure cancer. From Jessica Esquivel, one of only 150 Black women with a doctorate in physics in the country, to Karina Popovich, a college student who produced over 82,000 pieces of 3D-printed PPE for health-care workers in the early days of the pandemic, visitors will come face to face with entrepreneurs, educators, scientists and conservationists who are building the future. Each statue will feature a unique QR code so visitors can learn about these inspiring personal stories.  

"These striking 3D-printed figures of remarkable women in STEM careers help us celebrate the incredible impact women continue to make on vital scientific endeavors," said Lonnie Bunch, Secretary of the Smithsonian. "This exhibition highlights how a more diverse, more inclusive workforce will strengthen our shared future."

"'#IfThenSheCan – The Exhibit' provides the perfect opportunity for us to show that women have successfully thrived in STEM for decades, while also illustrating the innumerable role models young women can find in every field," said Ellen Stofan, the Smithsonian's Under Secretary for Science and Research. "Through this exciting collaboration with Lyda Hill Philanthropies, the Smithsonian is furthering our commitment to fostering an environment where all girls know they can make an indelible mark on our future."

"We are excited to highlight the work of these game-changing STEM innovators and help expand the narrative about who is leading in these fields," said Rachel Goslins, director of the Arts and Industries Building. "These women are changing the world and providing inspiration for the generation that will follow them."  

IF/THEN® is an initiative designed by Lyda Hill Philanthropies to activate a culture shift among young girls to open their eyes to STEM careers. From tagging sharks, searching for extraterrestrial life, fighting superbugs, to choreographing robots, these STEM innovators were selected through a rigorous process that identified them as leaders in their fields with a commitment to inspire the next generation. All were chosen by the American Association for the Advancement of Science (AAAS) and Lyda Hill Philanthropies to serve as AAAS IF/THEN® Ambassadors: high-profile role models for middle school girls. 

"#IfThenSheCan – The Exhibit" will be unveiled to the public March 5, kicking off the month-long Women's Futures Month festival with a weekend of exciting programs at the Arts and Industries Building. Programming for the month will invite visitors of all ages and gender expressions to dream big and see themselves as scientists-in-the-making. They will be given the unique opportunity to meet the women scientists and inventors changing the world during a free "Work It! FUTURES Career Day" March 5, and they can enjoy inspiring activities for future-makers of all ages during a "Spark the FUTURES: Science Family Day" March 6. 

During opening weekend, visitors will be able to explore all 120 statues placed in the Arts and Industries Building, the Smithsonian Castle and the adjacent Enid A. Haupt Garden. Starting March 7, select statues will spread out to the Smithsonian's National Museum of Natural History and other locations along the National Mall through the end of the month 
This program is made possible by the support of Lyda Hill Philanthropies and the IF/THEN initiative.
"What inspires someone to dream big, reach further, leap higher?," asked Lyda Hill, entrepreneur and founder of Lyda Hill Philanthropies. "#IfThenSheCan – The Exhibit was a big idea that we created with the intention to reach young girls to spark their dreams and support their interest in science. We are deeply grateful to the Smithsonian to make these statues accessible to so many in our nation's capital." 

Women's Futures Month Programming
Throughout the month, the Arts and Industries Building will host an array of other #WomensFuturesMonth in-person and virtual events that will bring to life inspirational stories of women making a difference in their fields.
Highlights include:
"Meet Us In the Futures: Using Her Lens to Capture Tomorrow"
Thursday, March 3, 6:30–7:30 p.m. ET (virtual) 
To help imagine a future that prioritizes the inclusion of female-led perspectives in the world of media, this special program will feature trailblazing women in media, such as Cierra Glaude, who is a director behind the award-winning Ava DuVerney OWN drama, Queen Sugar, and Gia Peppers, award-winning entertainment journalist. 

"Tell Me More: Living in Space"
Thursday, March 10; 6:30–7:30 p.m. ET (virtual and in person)
Dava Newman, MIT Media Lab director and aerospace engineer, will offer an exploration of the magic of her groundbreaking spacesuit, the Biosuit. 

"Fridays@FUTURES: #WomensFuturesMonth"
Friday, March 11; 5:30–7 p.m. ET (in person)
A guided tour will explore creative visions of the future through art. From the portal of Expanded Present to artificial intelligence portraiture to a coin-operated Wetland, visitors can see how art helps people imagine possible futures.

"Tell Me More: Gamechangers"
Thursday, March 24; 6:30–7:30 p.m. ET (virtual and in person)
Visitors can take a trip with the women gamers, designers and therapists behind EyeMine to explore the power of the video game that gives players with physical disabilities the chance to fully experience video game play through adaptive technology.