Soo Sunny Park's Expanded Present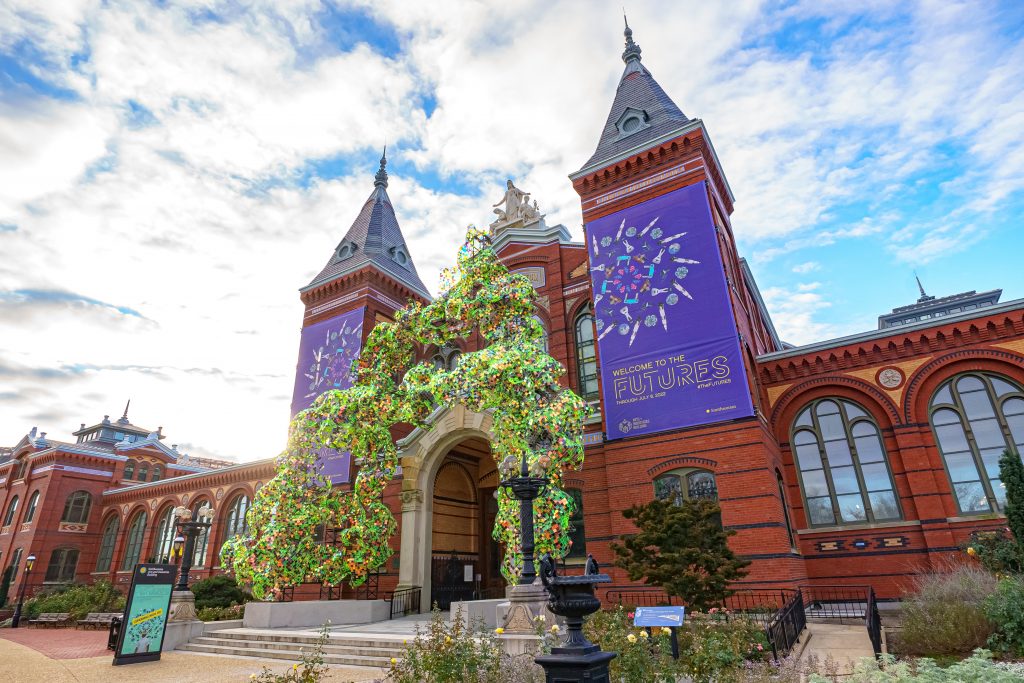 Cross the threshold of present to past to future as you step through an iridescent new installation by Soo Sunny Park at AIB's entrance. This ethereal portal, made by molding materials like fencing, metal studs and dichroic glass (a material invented by NASA!), will reflect the light differently based on weather, times of day, and the spot from which it is viewed. Embrace the moment when the present changes into the future at this magical "in between" space.
Made possible by the Smithsonian Asian Pacific American Initiatives Pool, administered by the Smithsonian Asian Pacific American Center with support from the Suzanne Nora Johnson and David Johnson Foundation and global architecture and design firm Gensler.
READ MORE
ARTNET: To Celebrate Its 175th Birthday, The Smithsonian Will Stage Blowout Exhibition featuring Five New Commissions
read more
SMITHSONIAN MAGAZINE: IMMERSE YOURSELF IN FIVE FUTURISTIC WORLDS
read more
SEE MORE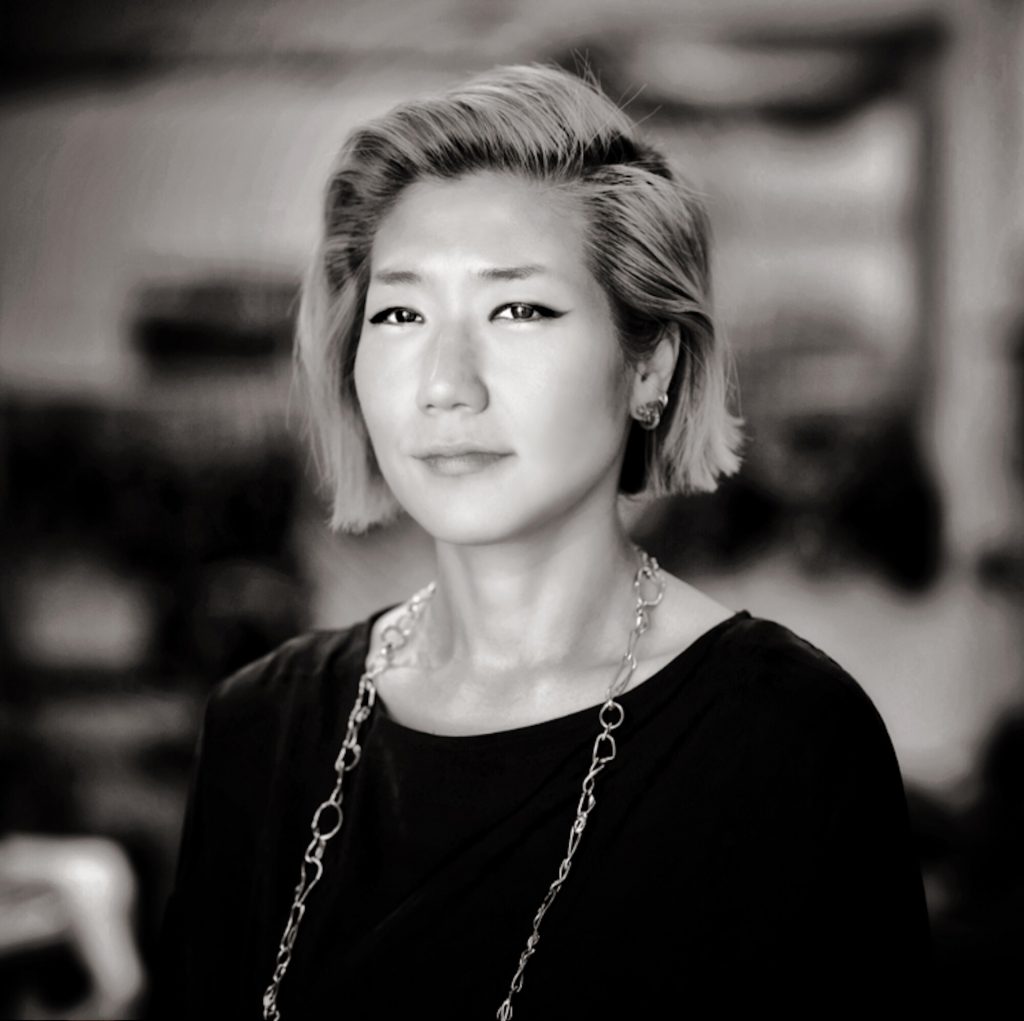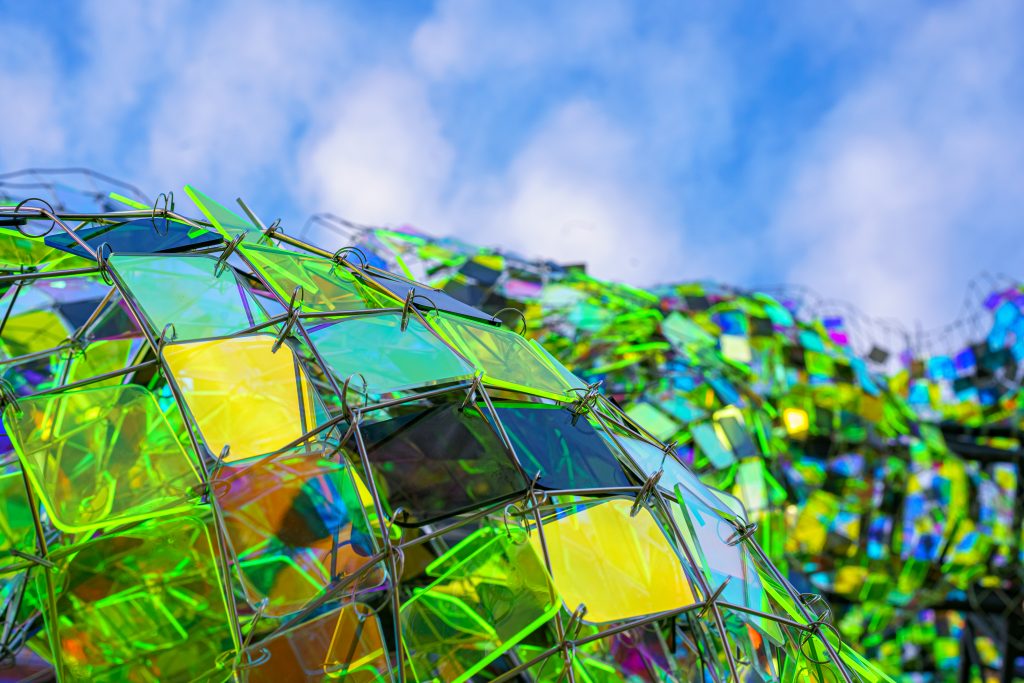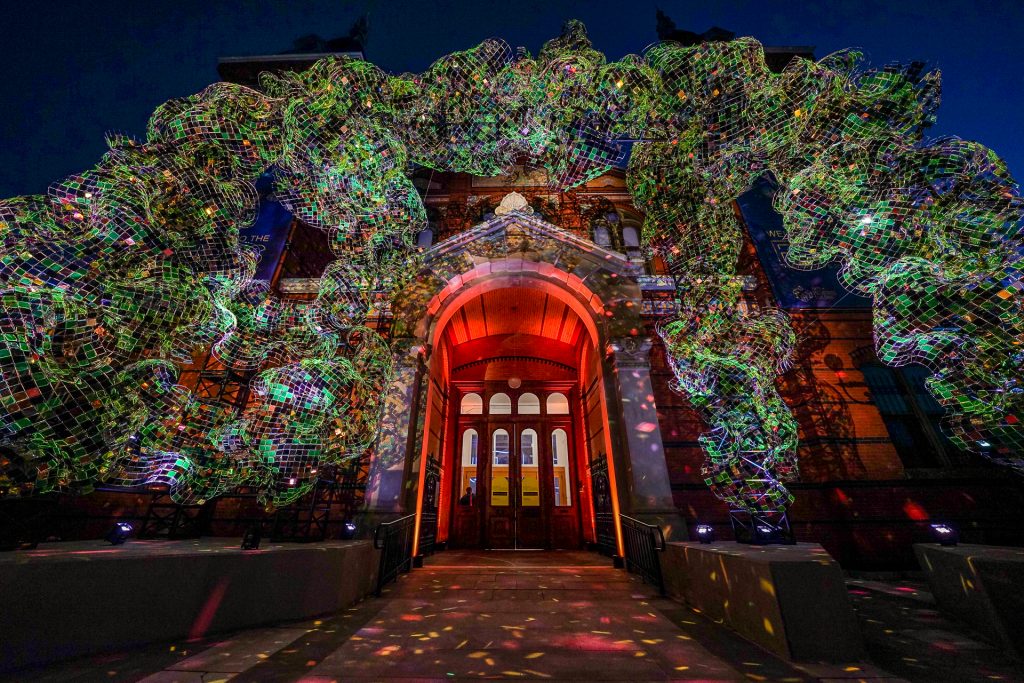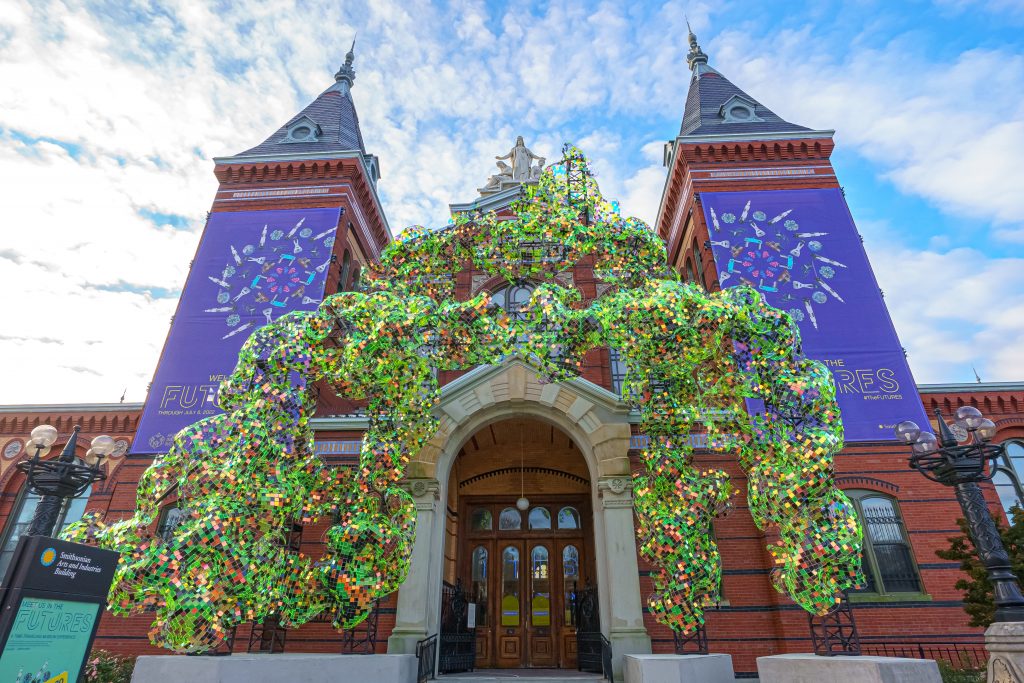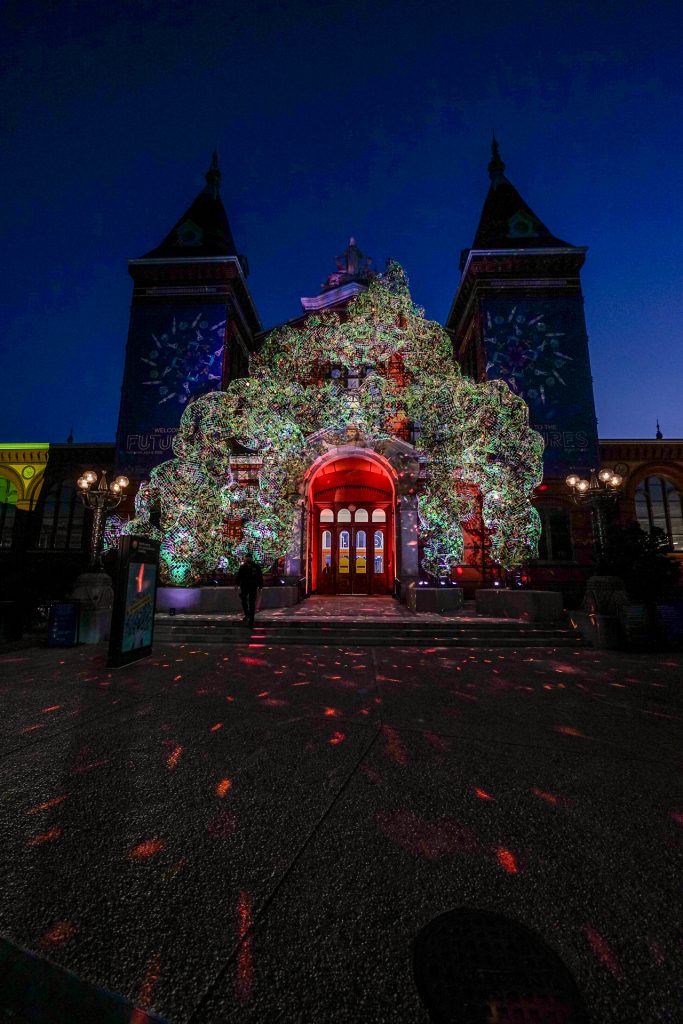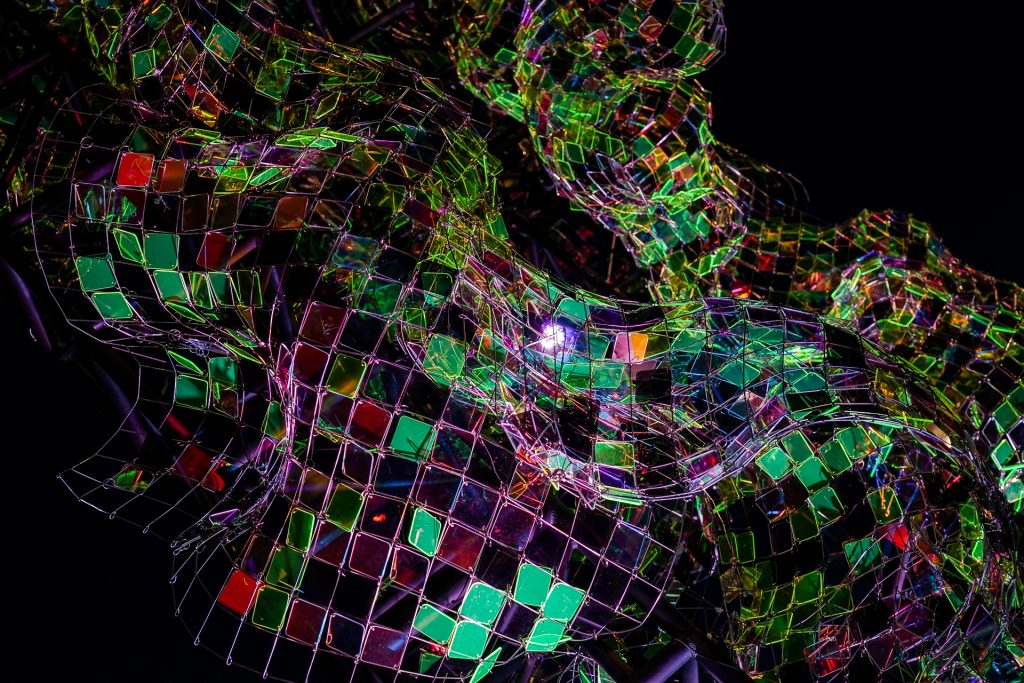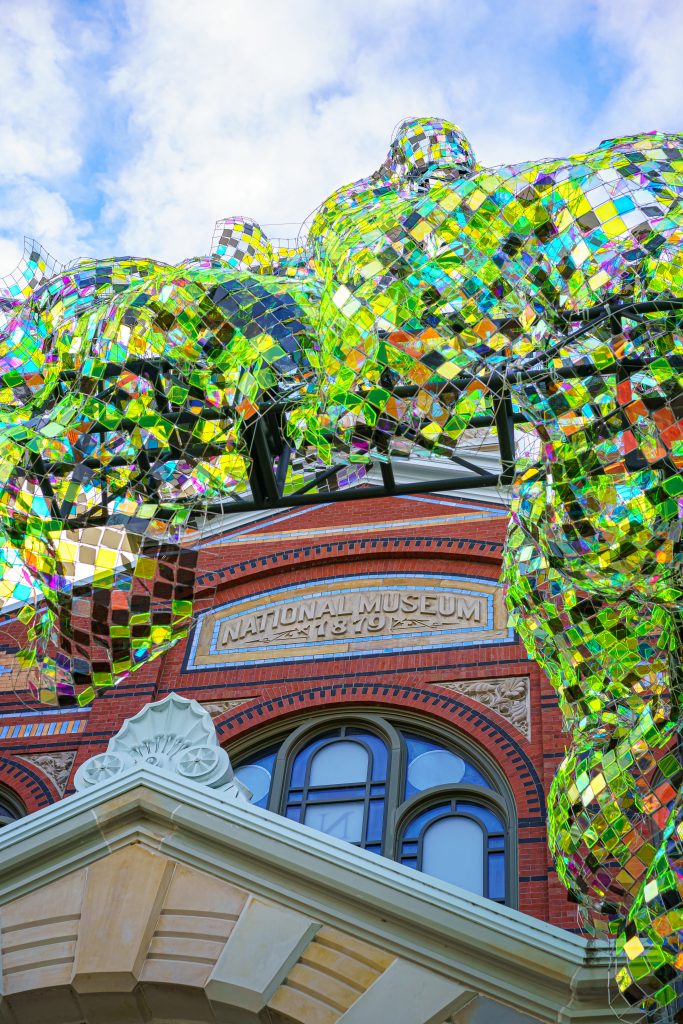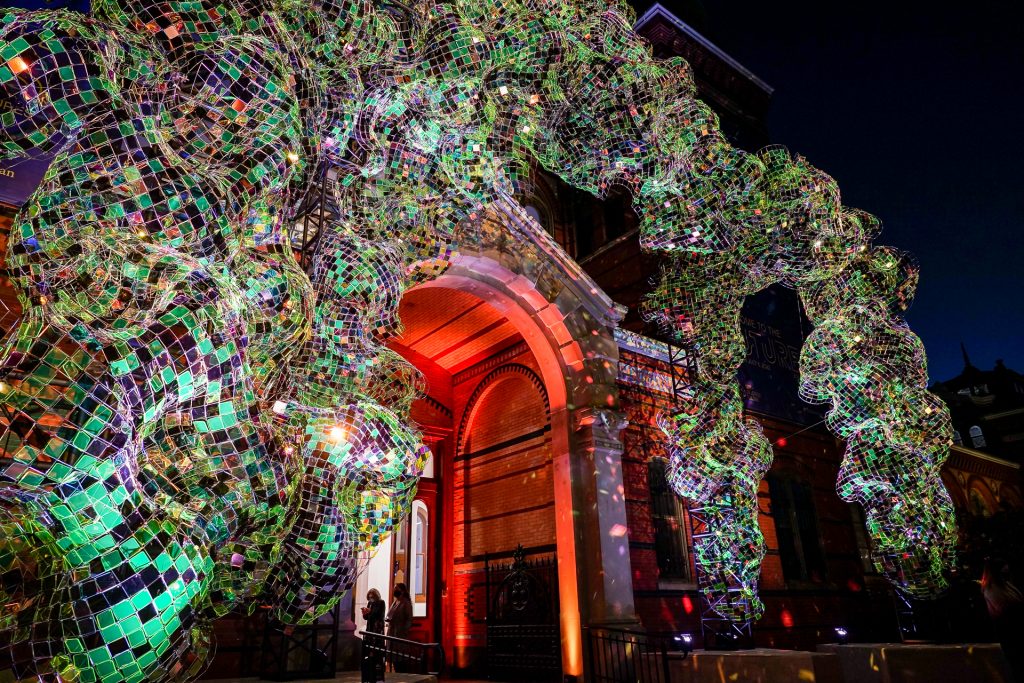 Artist Statement
My work reconfigures boundary materials—fencing, glass, metal studs, drywall—to expand and explore a variety of liminal spaces, those between inside and outside, sculpture and drawing, seeing and showing, vision and perception, artifice and nature.
Light, too, is a liminal being, between us and what we see, something that mediates our visual awareness of the world, but not something that we see in and of itself. In my work, light is not just a means by which the form is seen but it is also a material out of which my installations are made. More than just a means by which we see the work, without light there is no projection, reflection, translucency, or shadow, so the artwork is not complete. Subtle variations in color, angle, and brightness of light throughout the day become part of the work itself.
The present is an ever-changing space between the past and future, just as an entryway stands between a building's interior and exterior. Expanded Present transforms the space leading into the FUTURES exhibition. Multiple layers of dichroic, iridescent, and retro-reflective material, woven into sinuous forms, interact brilliantly with light. From outside, this piece provides a shining welcome at the north entrance. Within the structure, the many layers of material lead to a pattern that evolves, like the present, as viewers move into the future. This invites all to think about where we have been, where we are now, and where we are going.
About Soo Sunny Park
Born in Seoul, Korea, Soo Sunny Park moved to the U.S. at the age of ten and grew up in Marietta, GA and Orlando, FL. Soo Sunny Park currently lives and works in New Hampshire, is Professor of Studio Art Department at Dartmouth College. Park received a BFA from Columbus College of Art and Design in Columbus, Ohio and M.F.A in Sculpture from Cranbrook Academy of Art in Bloomfield Hills, Michigan. After a residency in Skowhegan School of Painting and Sculpture, 2000, she was awarded with the River Front Times Best of 2001, Sculptor of St. Louis. Park is a recipient of the Joan Mitchell MFA Grant; Grand Prize winner of the 19th Annual Michigan Fine Arts Competition; Helen Foster Barnett Prize: The National Academy Museum, New York; The Rockefeller Foundation: The Bellagio Center Residency, Bellagio, Italy; Kultur Osterbotten Fellowship, Ateljé Stundars Residency, Korsholm, Finland; Vancouver Biennale 2014-15 Residency, British Columbia, Canada; and Martin Shallenberger Artist-in-Residence, Cheekwood, Nashville, Tennessee.
Park is widely recognized for her sculptural light installations, which have been exhibited at art institutions such as the North Carolina Museum of Art, NC; Sharjah Art Museum, UAE; Rice Gallery, TX; New Britain Museum of American Art, CT; DeCordova Sculpture Park and Museum, MA; American Academy of Arts and Letters, NYC; and Laumeier Sculpture Park, MO. An upcoming solo exhibition of Park's work will be held at the San Jose Institute of Contemporary Art.