June 8, 2022
Smithsonian's Blockbuster "FUTURES" Exhibition To Close July 6 With Free "FUTURES Forward" Daylong Bash
After More Than Half-a-Million Visitors, Groundbreaking Exhibition To Culminate in an Epic Community Celebration With DJ mOma, Dancing Robots, Immersive Performances and More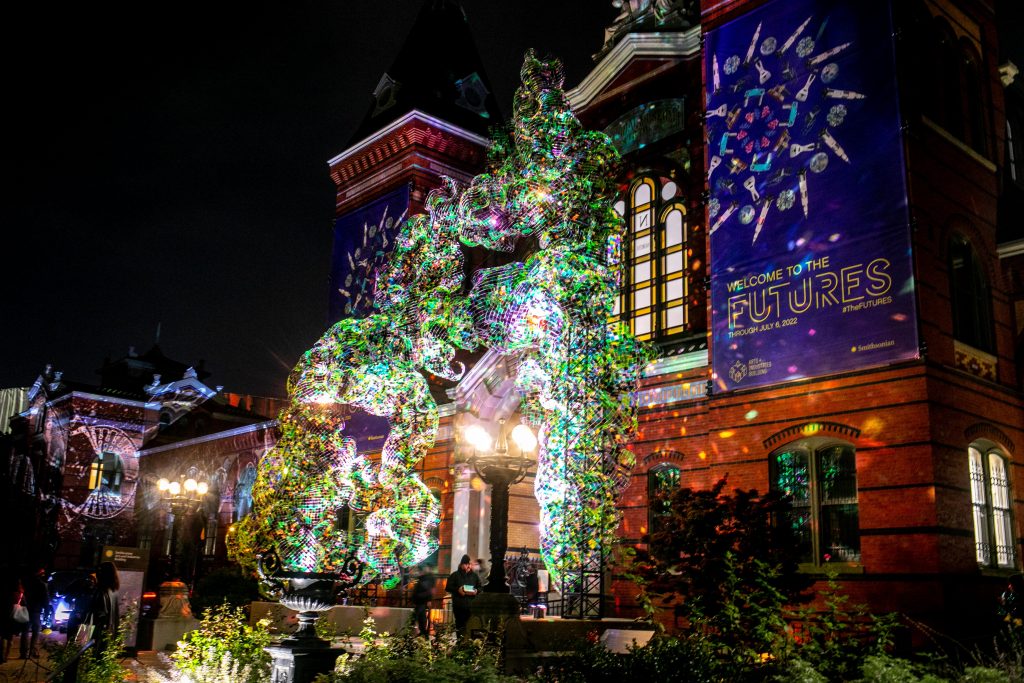 The historic Arts and Industries Building (AIB), America's first National Museum, will celebrate the closing of its groundbreaking museum experience "FUTURES," the first major exploration of the future on the National Mall, on Wednesday, July 6. "FUTURES Forward" will be a daylong free community party from 10 a.m. to 11 p.m. for visitors of all ages to come together and inspire each other through joy, art, dance, science, performances and more in a round-the-clock lineup of constant surprises. 
Highlights include daytime hands-on activities and giveaways for families, creatively curated "happy hour" performances from local favorites and an epic late-night dance party with DJ mOma and choreographed robots by award-winning dancer and engineer Catie Cuan. Everyone is encouraged to wear their brightest neon—in the words of Timbuk 3, 'the future's so bright, [you] gotta wear shades." 
"The response to FUTURES has been extraordinary, and it's only been possible thanks to our community of incredible visitors, supporters, advisors and partners," said AIB Director Rachel Goslins. "This FUTURES Forward party isn't an end; it's a beginning of the rest of your futures, of building the world you want to live in and sharing it with those around you."  
Open through July 6, "FUTURES" is the Smithsonian's first major building-wide exploration of the future, and it temporarily reopened the institution's oldest museum for the first time in nearly two decades. The part-exhibition, part-festival marked the Smithsonian's 175th anniversary with more than 150 awe-inspiring objects, ideas, prototypes and installations that fuse art, technology, design and history to help visitors imagine many possible futures on the horizon.
"FUTURES Forward" begins at 10 a.m. with a full slate of family friendly art- and science-inspired hands-on crafts, themed tours, Book Nook readings and giveaways for the littlest future makers. All visitors are invited to add their message to a monumental FUTURES intention installation created to "pass it forward" their own optimistic vision of tomorrow.  

Kicking off at 5 p.m., the entire building will come alive with special performances from Washington, D.C.-based artists set within unique spaces throughout the exhibition. From illusionists to spoken-word poets to brass bands, these performers will push the limits of creative expression and welcome visitors to experience FUTURES one last time in a new, immersive way.  

The grand finale, an indoor/outdoor neon-soaked "Future of Dance Party," begins at 7 p.m. Guests are encouraged to wear their most vibrant neon-best outfits inspired by FUTURES and dance the Wednesday away with new tracks by New York City-based DJ mOma. Special guests include ballerina, TED fellow and award-winning robotics engineer Catie Cuan, June's Futurist-in-Residence, and her dancing robots, debuting a new choreographed performance to inspire audiences to move their bodies in new and transformative ways. The entire exhibition will be open late—one final chance to test, try, delight and debate the innovations and ideas on view. An out-of-this-world balloon drop ends the night to send everyone off into the world renewed and ready for what is next. Future-inspired cocktails and beverages will be available thanks to expert mixologists at a cash bar.
"FUTURES Forward" is free and future agents of all ages are invited, with advance registration strongly recommended.     
During its final exciting month, "FUTURES" will be open every day except Tuesday, 10 a.m. to 5:30 p.m., with extended hours until 7 p.m. on Fridays and Saturdays. For more information and to plan a visit, the public can go to aib.si.edu. Admission is free, and no timed tickets are required. 
"FUTURES" is made possible by a select group of sponsors and supporters: Amazon Web Services, Autodesk, Bell Textron Inc., Jacqueline B. Mars, John and Adrienne Mars, the Embassy of the State of Qatar, David M. Rubenstein and SoftBank Group. Major support is also provided by the Annenberg Foundation, Bloomberg Philanthropies, Kevin S. Bright and Claudia W. Bright, and Robert Kogod. Additional funding is provided by John Brock III, Events DC, First Solar, Ford Motor Company, Wendy Dayton, Charlie and Nancy Hogan, the Suzanne Nora Johnson and David Johnson Foundation, Lyda Hill Philanthropies, Meta, National Football League, National Football League Players Association and Oracle.   
About the Arts + Industries Building
The Arts and Industries Building (AIB) is a home for the future-curious. The Smithsonian's second-oldest building opened in 1881 as America's first National Museum, an architectural icon in the heart of the National Mall. Its soaring halls introduced millions to wonders about to change the world—Edison's lightbulb, the first telephone, Apollo rockets. Dubbed "Palace of Wonders" and "Mother of Museums," AIB incubated new Smithsonian museums for over 120 years before finally closing to the public in 2004. "FUTURES" is a milestone first step in the long-term plan to renovate and permanently reopen this landmark space. For more information, visit aib.si.edu. Follow the museum on Facebook, Instagram and Twitter.