Futurist in Residence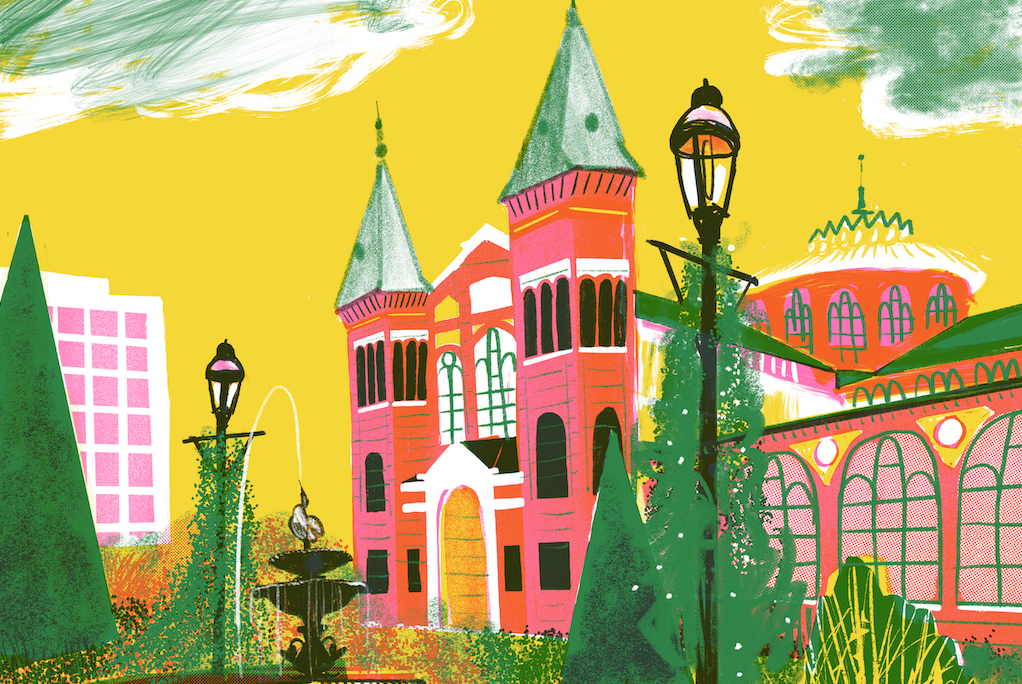 JULY
As we wind down the end of FUTURES, we're looking to the stars, the universe and beyond and dreaming of what's next. We partnered with young poets, the students of 826LA, to envision life in another galaxy. Our creators include: Milli, Adamaris, Nathalie, Camilla, Yael, Anthony, Deemar, Diego, Galilea, Gio, Mark, and Natalia.
Meet the Futurists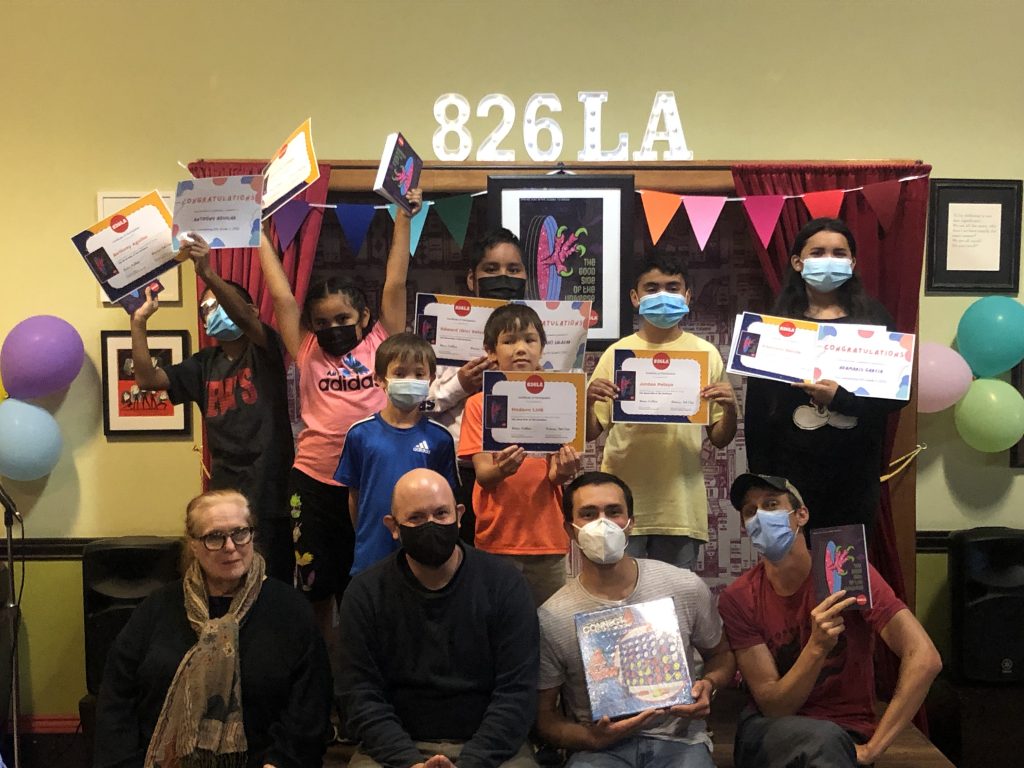 The students of 826LA are creative, hardworking young people who attend 826LA's Tutoring program twice a week. Collectively, they are the authors of Mis Memorias/My Memories and A Painting from Dreamland. They enjoy writing, imagining the future, and time traveling.
Started in 2005, 826LA is a nonprofit writing and tutoring organization dedicated to helping students ages 6 to 18 with their creative and expository writing skills, and to helping teachers inspire their students to write. It is part of the 826 national network founded by author Dave Eggers and educator Nínive Calegari.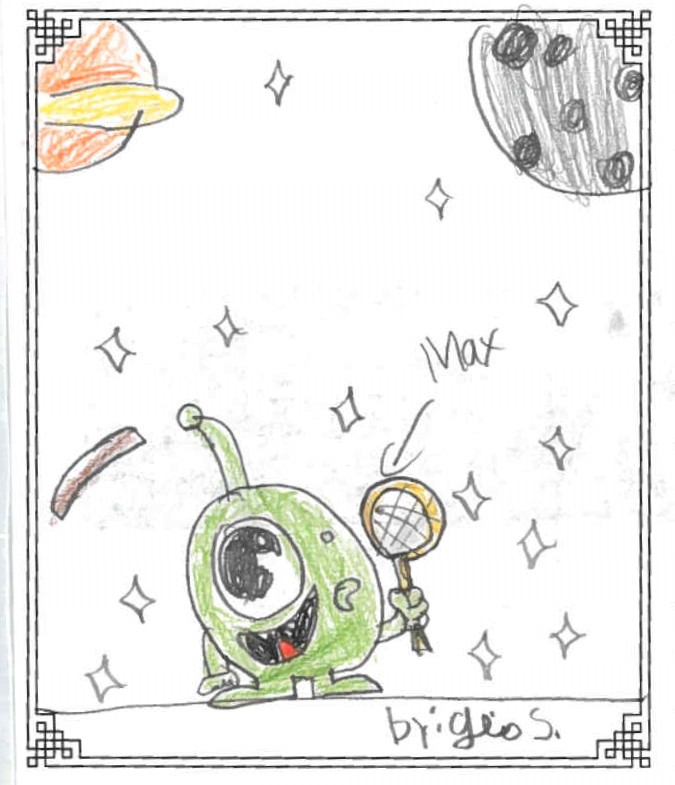 JUNE
From healthcare to concierge services and beyond, have we embraced the idea of robots in our daily lives?
We're excited to learn from Futurist Catie Cuan who is a dancer, choreographer, and researcher —currently a PhD Candidate in the Mechanical Engineering department at Stanford University. Her artistic and research work focuses on dance and robotics, working on ways to reduce alienation and increase empowerment for humans when interacting with machines. We'll explore movement, interactions, and consider a hopeful future with robots.
Taking inspiration from FUTURES and her research, Catie's residency will culminate with a special performance in partnership with Brown University on July 6!
'In her prime' is a choreorobotics performance by Catie Cuan created as part of her residency, in collaboration with Eric Rosen and Max Merlin. Moving human and robot bodies exchange and intensify stark, percussive gestures in an atavistic ceremony. Parallel and often opposing concepts of death/rebirth, idea/reality, and humans/technology are experienced through a kinetic "cave painting". How far are we from our previous selves and what does nature mandate for us? This piece is produced by AIB, Sydney Skybetter of the Conference for Research on Choreographic Interfaces and Stefanie Tellex of the Humans to Robots Laboratory at Brown University, with additional support from Madeline Morningstar and Cameron Scoggins. Video editing and capture by Michael DeLaurier.
Performers include Catie Cuan, Lisa Einstein, and Willia Noel Montague. Original composition by KLOAQ Audio Design.
Meet the Futurist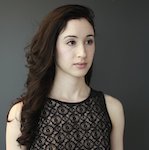 Catie Cuan is a choreographer, dancer, and roboticist. She is currently a PhD Candidate in Mechanical Engineering at Stanford University and the Inaugural Artist-in-Residence at Everyday Robots. She was previously an artist in residence at ThoughtWorks Arts, the RAD Lab, and TED Residency. Her artistic and research work explores improvisation and knowledge sharing between robots and humans.
You can find her on Instagram | Twitter.
MAY
We're envisioning a sustainable future with environmental educator and entertainer Hila the Killa, our eco-rapping Futurist for May!
Curious about how to reduce single-use plastics? Have you wanted to try composting? Sing and learn along with hilarious sketches and raps, Hila covers everything from lowering our carbon footprint, to supporting pollinators, loving vegetables, respecting our planet, and more.
Combining hip-hop, stand-up comedy, acrobatics, and elaborate costumes — we can't wait to see what she creates for FUTURES this month!
Meet the Futurist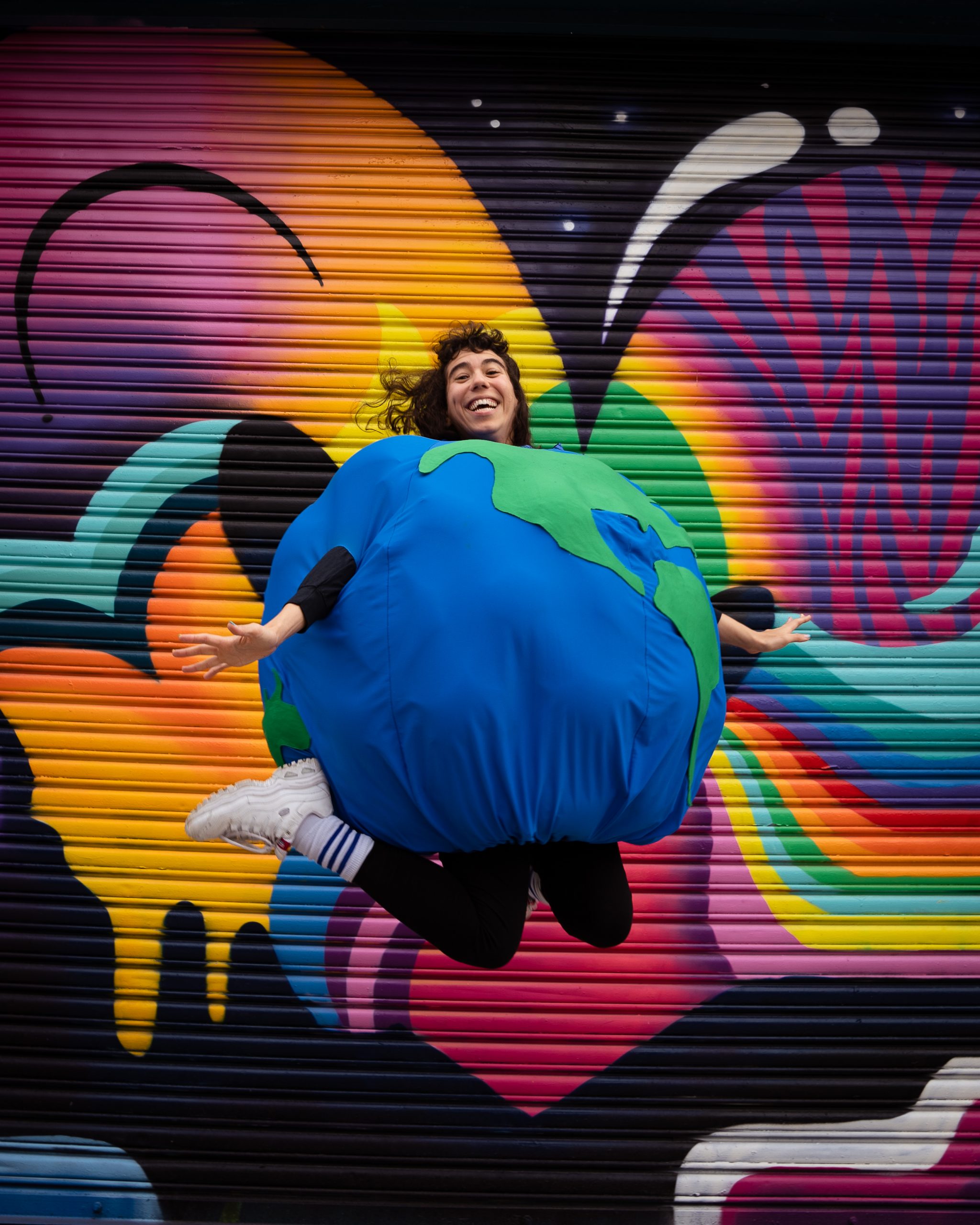 Hila the Killa is an Eco-Rapper. She performs as Planet Earth and writes songs and makes videos about ecological topics such as; trees, vegetables, compost, soil health, water, mushrooms, reducing plastic waste, and the list keeps growing. Hila is working on "The Earth Show" which is meant to provide a platform for ecological entertainment. Her hope is that by making Earth science accessible, musical and super fun, more people will take action to protect their environments and help life thrive on Earth. You can find her on Instagram | TikTok | Youtube
WATCH HILA PERFORM "FUTURES OF THE EARTH"
Song
APRIL
Grab your spatula, we're learning about sustainable ingredients and trying new recipes this month with our Futurist-In-Residence for April—Chef Bee.
How can we improve our relationship with ingredients that are good for our planet and our health? Prepare your taste buds for a culinary journey throughout the month, follow along for recipes and kitchen tips shared on Instagram.
Level up your cooking skills with Chef Bee and join a special cooking demonstration during our EARTH DAYS: Sustainability Weekend! RSVP here.
Meet the Futurist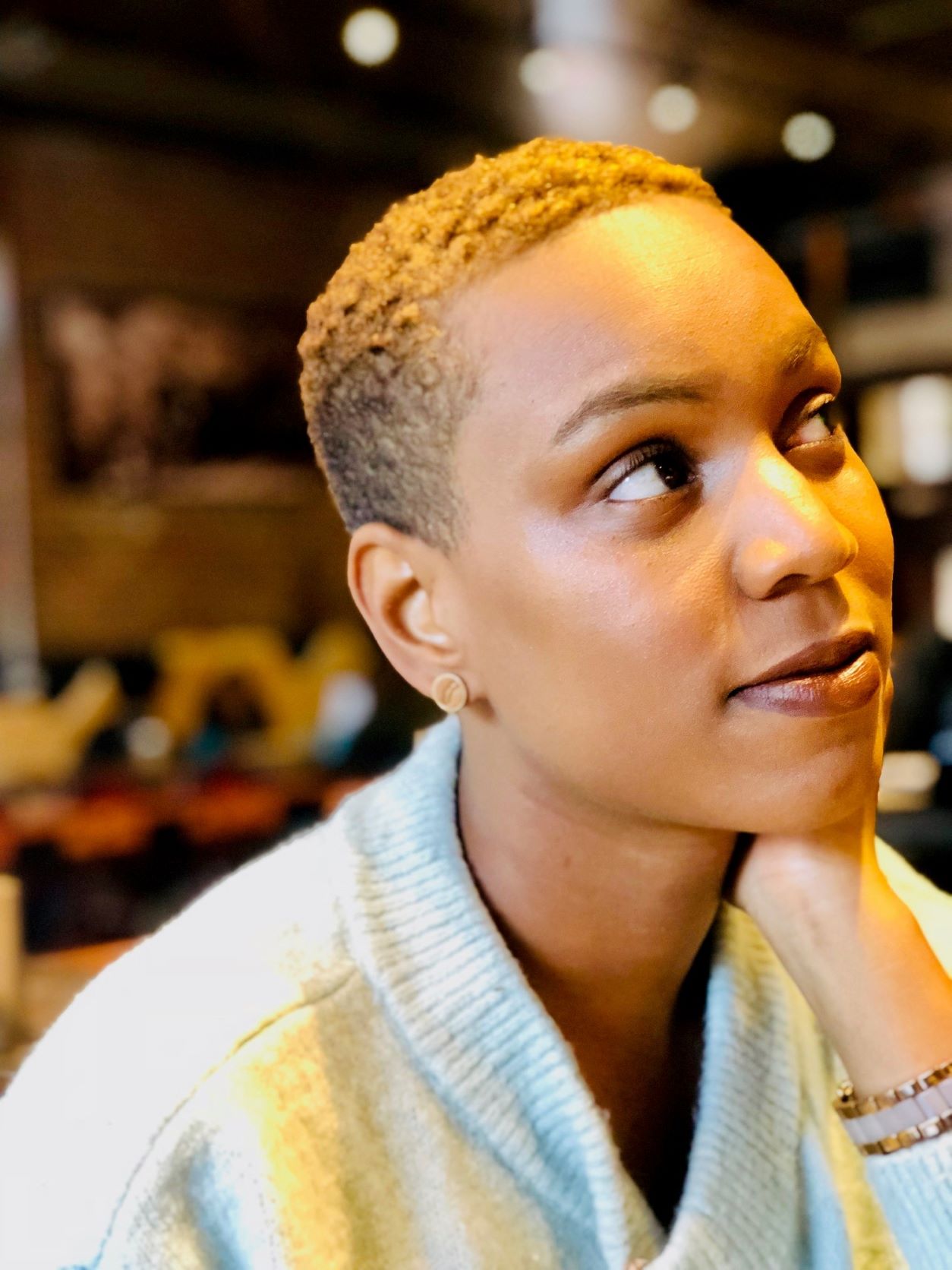 Chef Brianna Cooper-Spruce, known as "Chef Bee," spent much of her childhood cooking in her grandmother's kitchen. She pursued her passion as a profession and graduated with a culinary arts degree from l'Académie de Cuisine. After honing her skills at various fine dining restaurants including the Michelin-starred, seafood-focused restaurant Marea in New York City, Cooper-Spruce was selected to cook for the James Beard Foundation's 2020 International Women's Day dinner. Most recently Bee was selected to compete on the Food Network's show "Chopped: Alton's Maniacal Baskets," and is an Ambassador with Chefs for Impact.
But like many workers in the hospitality industry, the Covid-19 pandemic made Chef Bee rethink her goals and look for a more balanced lifestyle. She and her wife currently live in Portland, Oregon where Cooper is working as a private chef. She organizes pop-up events, and films her recipes for social media while increasing the dialogue surrounding a more sustainable, diverse, and inclusive restaurant industry.
MARCH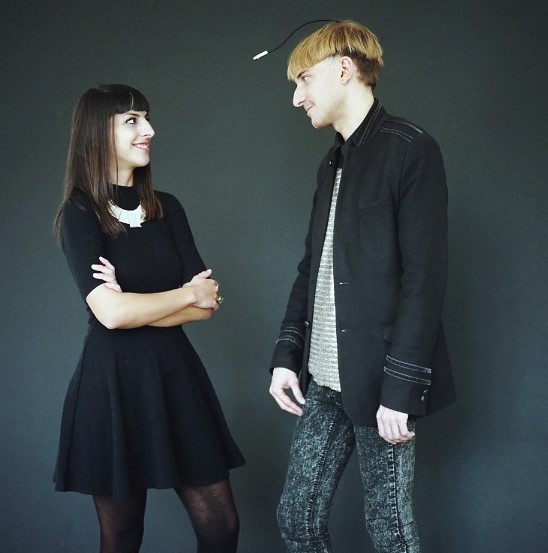 Transcend your body and perceive a deeper reality this March with our "Futurist-In-Residence," the Cyborg Arts Foundation. If you could hack your senses, what might you enhance?
Cyborg artists Moon Ribas and Neil Harbisson are co-founders of the Cyborg Arts Foundation, a community of artists developing new technologies to unlock unexplored realities. Hacking perceptions of identity and the world around us, their adaptations range from sonar capabilities, sensing and tracking tectonic activity, to using wearable devices to track time through heat sensors and beyond.
Will the future hold a post-human world? Explore these questions on a journey of "artificial senses," follow @smithsonianaib to meet a cyborg artist each week this month!
Meet the Futurists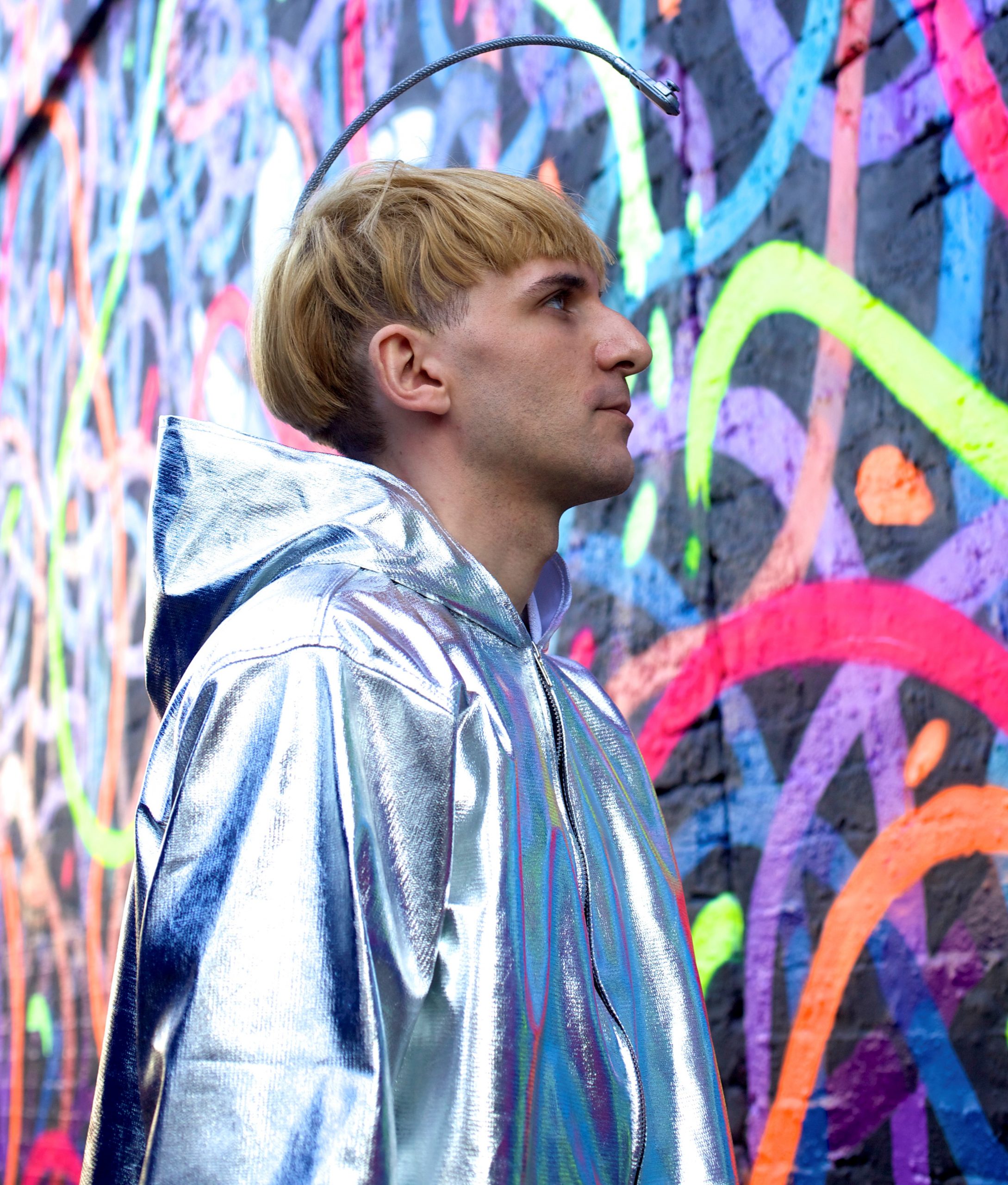 Neil Harbisson is a Catalan-raised, British-born contemporary artist and cyborg activist best known for having an antenna implanted in his skull and for being officially recognized as a cyborg by a government. The antenna allows him to perceive visible and invisible colors via audible vibrations in his skull including infrareds and ultraviolets as well as receive colors from space, images, videos, music or phone calls directly into his head via internet connection. Harbisson identifies himself both as a cyborg; he feels he is technology, and as a transpecies; he no longer feels 100% human. His artwork explores identity, human perception, the connection between sight and sound and the use of artistic expression via new sensory inputs. In 2010 he co­-founded the Cyborg Foundation with Moon Ribas, an international organization that aims to help humans become cyborgs, defend cyborg rights and promote cyborg art. In 2017 he co-founded the Transpecies Society, an association that gives voice to people with non-human identities, defends the freedom of self-design and offers the creation of new senses and new organs in community.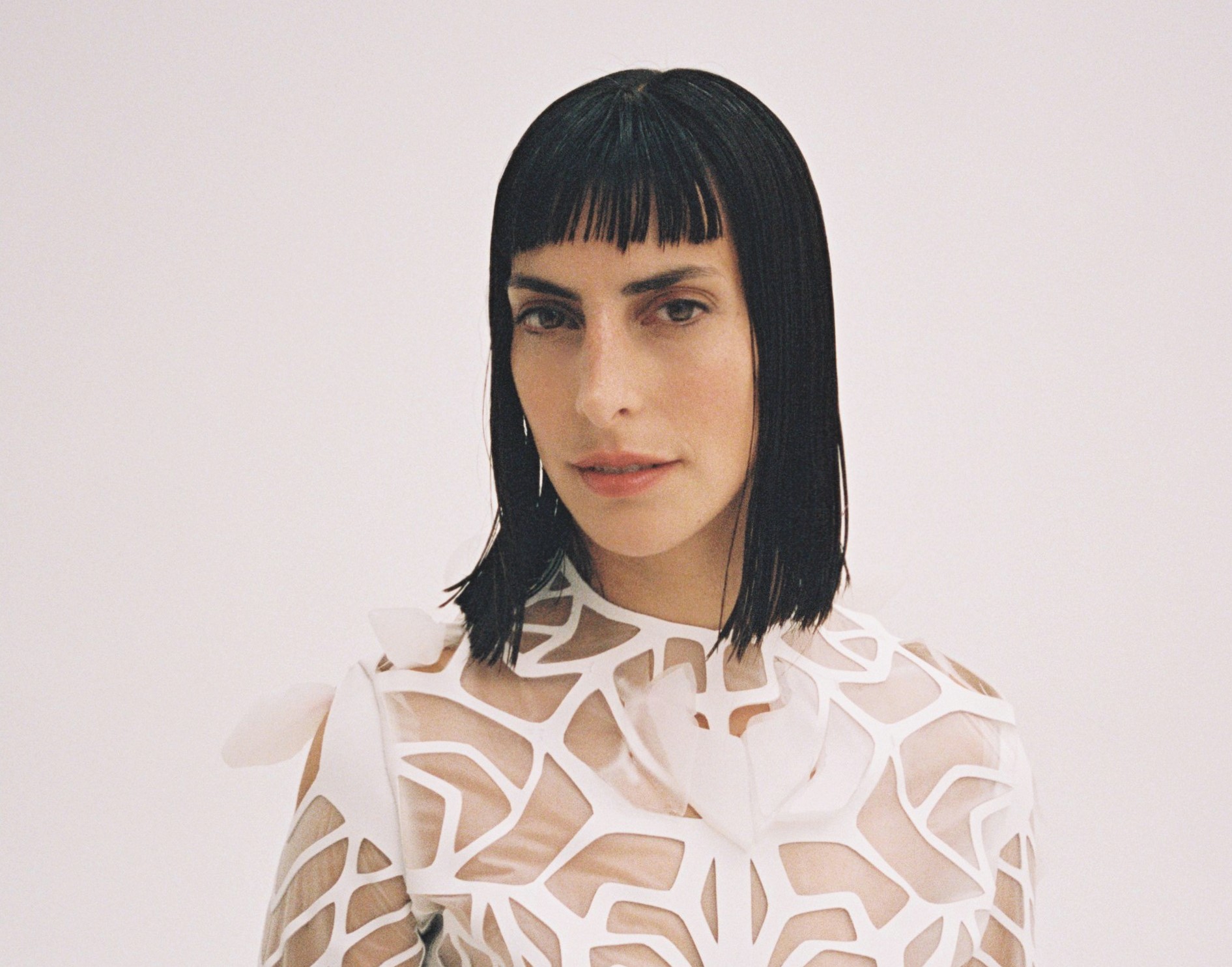 Moon Ribas is a Catalan avant-garde artist and cyborg activist best known for developing the Seismic Sense, an online seismic sensor that allows her to perceive earthquakes taking place anywhere in the planet through vibrations in real time. In order to share her experience, she then translates her seismic sense on stage. Ribas transposes the earthquakes into either sound, in her piece Seismic Percussion; or dance, in Waiting For Earthquakes. In these performances the Earth is the composer and the choreographer; and Ribas, the interpreter. Ribas' seismic sense also allows her to feel moonquakes, the seismic activity on the Moon. Ribas believes that by extending our senses to perceive outside the planet, we can all become senstronauts. Adding this new sense allows her to be physically on Earth while feeling the Moon, so in a way, she is on Earth and space at the same time.
Since 2007 Moon has been experimenting with the union between technology and her body to explore the boundaries of perception and to experience movement in a deeper way. Some of her previous research includes transdental communication, 360º perception and the Speedborg. In 2010 she co-founded the Cyborg Foundation, an international organization that aims to help people become cyborgs, defend cyborg rights and promote cyborg art. Ribas also co-founded the Transpecies Society in 2017, an association that gives voice to non-human identities, defends the freedom of self-design and offers the creation of new senses and new organs in community.
FEBRUARY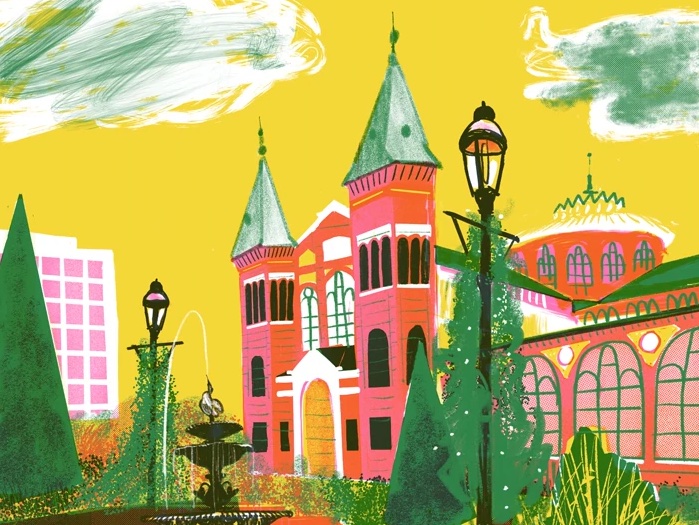 Time travel from AIB's founding to the future with artist and illustrator Carlos Carmonamedina. Carmonamedina will transport visitors on a journey from past visions of the future, through AIB today, and beyond. Follow along to see his creations each week @smithsonianaib. Tune in for a conversation with Carmonamedina on Instagram Live Wednesday, February 9 at 12 noon, and join a drawing workshop in person for FRIDAYS@FUTURES on Friday, Feb. 18, at 5:30 PM.
Meet the Futurist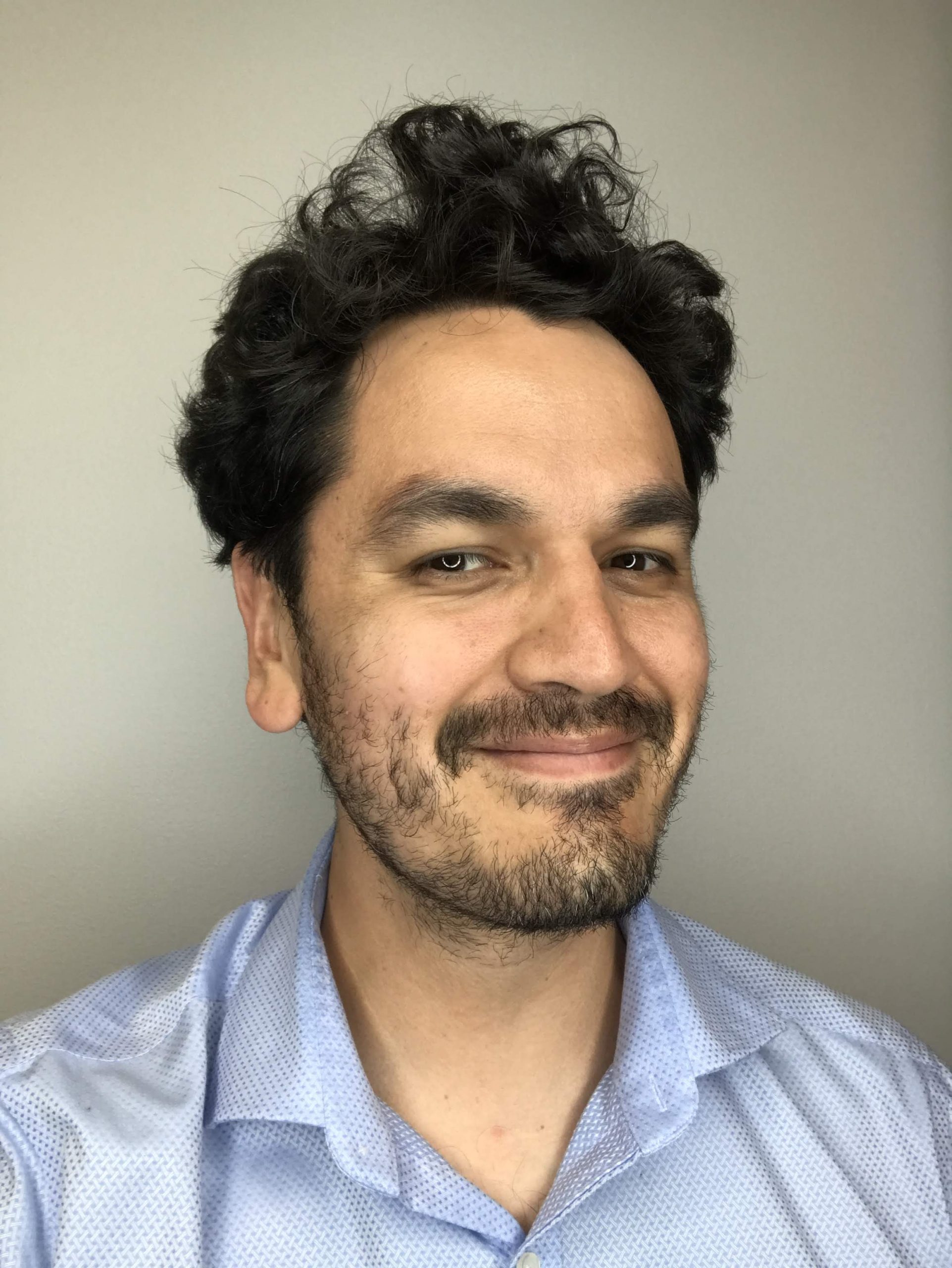 Every week, Carlos Carmonamedina highlights the human side of Washington, DC. DC is my City began in 2016 as a personal challenge to produce one postcard a week. Having recently moved to DC from Toulouse, France, Carlos used this project as an excuse to become familiar with the city. Posting his work online – Reddit, most notably – to keep himself accountable, it soon gained the support of the local community. In his images, the capital becomes a multifaceted character in and of itself, an homage to an exciting and awesome metropolis changing at an ever-accelerating pace. Carmonamedina completed his art education in Xalapa (Mexico) and in Cluj-Napoca (Romania), where he majored in Visual Arts and Painting.
JANUARY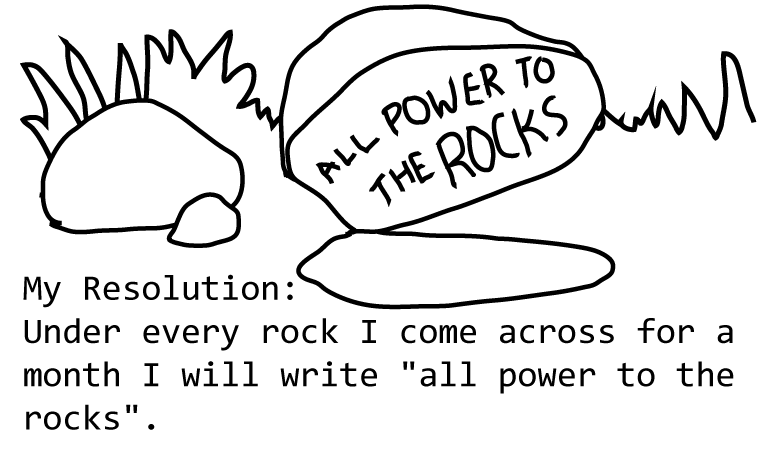 Still looking for a New Year's resolution? Let our newartificial intelligence (AI) resolution generator decide it for you! Visit our homepage and get your own New Year's resolution thanks to acclaimed AI humorist and researcher Janelle Shane. Resolutions range from the delightfully ambitious ("Find and pet every dog in my state") to the truly weird ("Make a perfect replica of my house made entirely of bread") to the never-thought-of-it-but-why-not ("Spend 30 days with a cabbage and see if I'm happier than 30 days before"), all created by AI-trained internet text.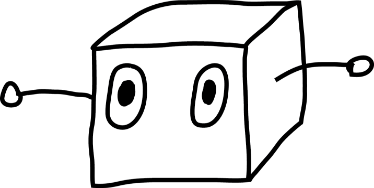 Say "tomato" over and over if ever I think I'm looking at a tomato.
Have a conversation with a fork for a week.Find a letter and read it to a tree.Go to empty swimming pool and sing songs to the tiles.Listen only to songs about crows for a month.Have a conversation with a fork for a week.Find a letter and read it to a tree.Go to empty swimming pool and sing songs to the tiles.Listen only to songs about crows for a month.Have a conversation with a fork for a week.Find a letter and read it to a tree.
Get another AI-generated
New Year's resolution
READ MORE
Washington Post: Maybe 2022 should be the year we turn over decision-making to the AI
read more
Meet the Futurist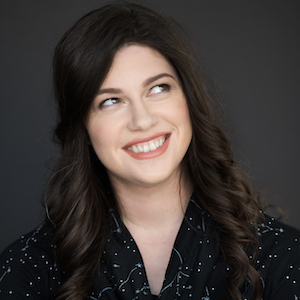 Janelle Shane's AI humor blog, AIweirdness.com, looks at the strange side of artificial intelligence. She has been featured on the main TED stage, in the New York Times, The Atlantic, WIRED, Popular Science, All Things Considered, Science Friday, and Marketplace. Her book, "You Look Like a Thing and I Love You: How AI Works, and Why It's Making the World a Weirder Place" uses cartoons and humorous pop-culture experiments to look inside the minds of the algorithms that run our world, making artificial intelligence and machine learning both accessible and entertaining.