December 15, 2021
New in January at Smithsonian "FUTURES," An AI to Author Hilarious New Year's Resolutions
Plus, Visitors Can Honor MLK Day At a "FUTURES We Dream" Weekend for All Ages, Imagine New Monuments With the Monument Lab, Dive Into Water Solutions and More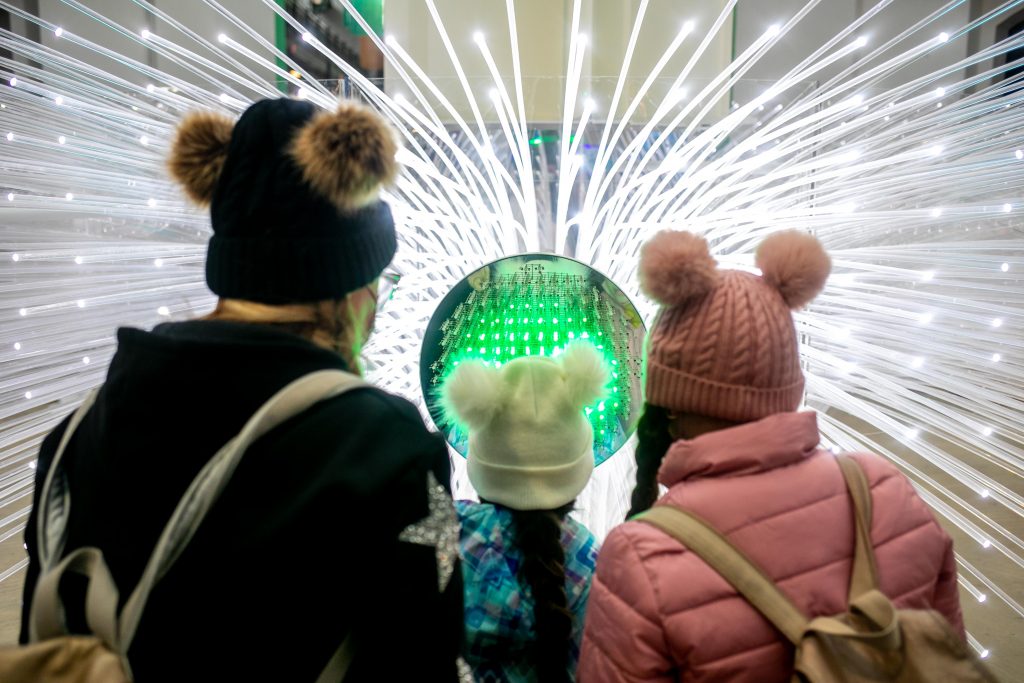 Visitors can start 2022 off with a dash of dreaming as "FUTURES" at the Smithsonian's Arts and Industries Building (AIB) invites future makers to an array of new free public programs and pop-ups that help set hopeful intentions for the year ahead.

Launching Jan. 1, 2022, audiences can visit aib.si.edu to get their own New Year's resolution from an artificial intelligence (AI) "Resolution Generator" thanks to acclaimed AI humorist and researcher Janelle Shane, author of You Look Like a Thing and I Love You. Resolutions range from the delightfully ambitious ("Find and pet every dog in my state") to the truly weird ("Make a perfect replica of my house made entirely of bread") to the never-thought-of-it-but-why-not ("Spend 30 days with a cabbage and see if I'm happier than 30 days before"), all created by an AI trained internet text. The project is part of AIB's new monthly "Futurist in Residence," an online residency inviting innovators to think creatively about the future and develop new content to spark delight and conversation. Each Futurist will explore a new theme and medium, spanning performing arts to food science to poetry from Mars, rolling out their creations online and on @smithsonianAIB.

A free "FUTURES We Dream" community weekend Jan. 14–16 will journey into a more equitable future, honoring the life and work of Martin Luther King Jr. and all those who use their voice to make a difference. At "Fridays@FUTURES" Friday, Jan. 14, visitors can hear from Monica O. Montgomery, social justice and programming curator, on community action and storytelling. On Saturday, Jan. 15, they can join a "Futures We Dream Film Premiere" at the Martin Luther King Jr. Memorial Library to watch a live premiere of the exhibition's short film series on everyday people making a difference across the country. They can also learn more about the inspirational social justice themes behind each film and greet the award-winning filmmakers behind the work, in partnership with the DC Public Library and the Alliance for Media Arts + Culture. On Sunday, Jan. 16, AIB will celebrate the youngest future makers, including a lively "Futures We Dream Family Day" full of art making, social justice tours and more.

Starting Jan. 5, award-winning non-profit public art and history studio Monument Lab will be in residence at "FUTURES" to inaugurate their newest project, a Monuments Must Change Public Classroom. Though explorations of public memory, this collaborative pop-up will invite everyone to share stories of joy, regeneration and belonging to invent their own monuments. Most recently, Monument Lab and the Mellon Foundation released a landmark National Monument Audit that scoured the records of over a half-million historic properties, an effort to expand monuments for future generations to reflect the richness of American stories.

"AIB will also host free virtual and in-person programs delving deeply into ways to solve the future, new each month. January's calendar features:

–"Meet Us in the FUTURES: A World for Water" (virtual); Thursday, Jan. 7, 6:30 p.m. EST: More than 70% of the Earth is covered in water, but increasingly the majority of the global population is "water stressed," without access to clean, fresh water. The virtual audience can take a journey into a future world where everyone has equitable access to clean and drinkable water, using the power of science. AIB's signature virtual talk series brings audiences into the inspiring places of big thinkers, this time with National Geographic Explorer and marine biologist Asha de Vos; world-renowned chemist Omar Yaghi who invented a groundbreaking Water Harvester (WaHa) that pulls water from the air in the driest conditions; and chemist and WaHa CTO Eugene Kaputsin. Registration is free but required.

–Tell Me More: Living with Robots!" (virtual and in-person); Thursday, Jan. 20, 6:30 p.m. EST: How can robots enhance people's everyday lives? Is it possible to imagine a future world where robots increase human abilities by walking and living among them? "Tell Me More" gives visitors a chance to explore the magic of groundbreaking inventions—like the completely autonomous humanoid robot, RoomieBot—through live hands-on demos with the real people who make them happen. Registration is free but required.

–"WIYRSP: Art and Technology Building Community" (virtual and in-person); Wednesday, Jan. 26, 6:30 p.m. EST: Technology is not just a tool, it can be a powerful medium for creatives like artists to create empathy, equity, and new ideas between diverse communities. Audiences can join me + you artist and architect Suchi Reddy, curator and New Museum Deputy Director Isolde Brielmaier and other creative visionaries to look closer at ways art, science, AI and augmented reality can forge deeply human connections. Made possible by AWS, registration for this program is free but required.
–"Fridays @ FUTURES" (in-person); Friday, Jan. 7, 14, 21, and 28; 5:30–7 p.m. EST: Every Friday in "FUTURES," visitors can start the weekend off right with a generous helping of new ideas and surprising brain snacks. They can explore the entire exhibition until 7 p.m. and keep coming back each week for a new and interesting take on the future through special tours, pop-up experiences, guest speakers and more.
For more details and to register, the public can visit aib.si.edu/happenings.

About "FUTURES"

"FUTURES" is the Smithsonian's first major building-wide exploration of the future and will temporarily reopen its oldest museum for the first time in nearly two decades. The part-exhibition, part-festival, designed by award-winning architecture firm Rockwell Group, will celebrate the Smithsonian's 175th anniversary with more than 150 awe-inspiring objects, ideas, prototypes and installations that fuse art, technology, design and history to help visitors imagine many possible futures on the horizon.

On view through July 6, 2022, "FUTURES" will be open every day except Tuesday from 10 a.m. to 5:30 p.m., with extended hours until 7 p.m. on Fridays and Saturdays. Admission is free, and no timed tickets are currently required. For more information and to plan a visit, the public can go to aib.si.edu.

"FUTURES" is made possible by a select group of sponsors and supporters: Amazon Web Services, Autodesk, Bell Textron Inc., Jacqueline B. Mars, John and Adrienne Mars, the Embassy of the State of Qatar, David M. Rubenstein, and SoftBank Group. Major support is also provided by the Annenberg Foundation, Bloomberg Philanthropies, Kevin S. Bright and Claudia W. Bright, and Robert Kogod. Additional funding is provided by Accenture, John Brock III, Comcast NBCUniversal, Events DC, First Solar, Ford Motor Company, Wendy Dayton, Charlie and Nancy Hogan, the Suzanne Nora Johnson and David Johnson Foundation, Lyda Hill Philanthropies, MedWand Solutions, National Football League, the National Football Players Association and Oracle.

About the Arts and Industries Building

The Arts and Industries Building (AIB) opened in 1881 as the country's first National Museum, an architectural icon in the heart of the National Mall. Its soaring halls introduced millions of Americans to wonders about to change the world—Edison's lightbulb, the first telephone, Apollo rockets. Dubbed "Palace of Wonders" and "Mother of Museums," AIB incubated new Smithsonian museums for over 120 years before finally closing to the public in 2004. "FUTURES" is a milestone first step in the long-term plan to renovate and permanently reopen this landmark space. For more information, visit aib.si.edu. Follow the museum on Facebook, Instagram, and Twitter.