October 28, 2021
Smithsonian To Time Travel 50 Years Into the Future To Debut Exhibitions of 2071
New Collaboration With Arizona State University's Center for Science and the Imagination Pairs Smithsonian Experts With Futurists and Sci-Fi Creators To Launch Series of Posters and Short Stories Set in the Future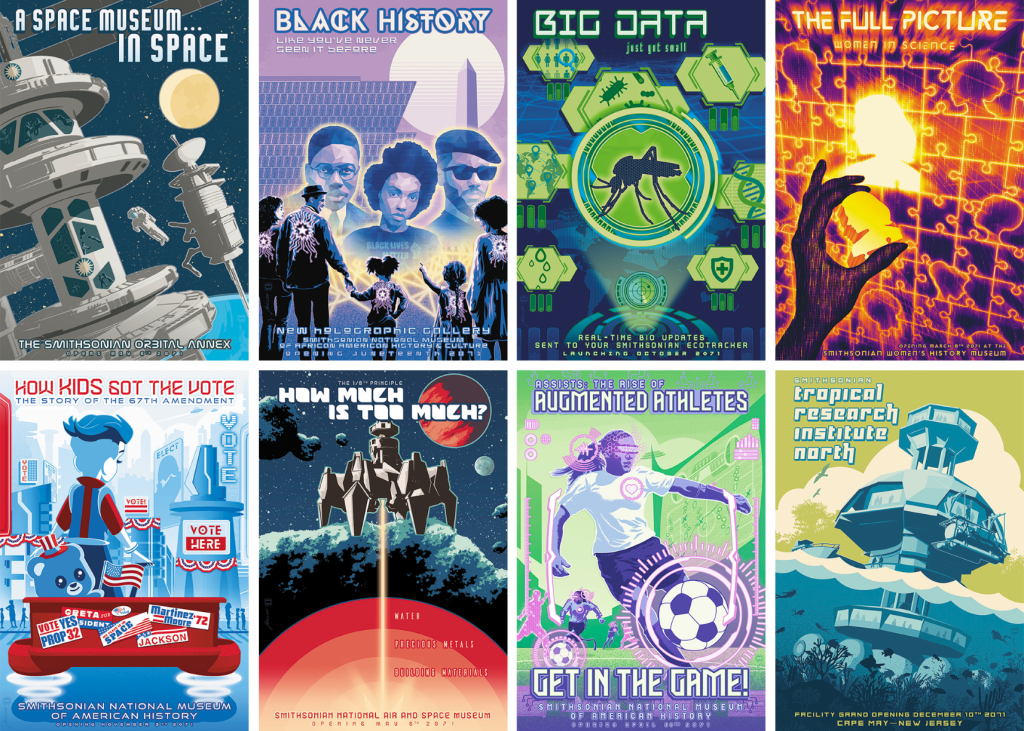 Debuting with the exhibition "FUTURES" at the Smithsonian's Arts and Industries Building (AIB), a new project 'Smithsonian Future Visions 2071' will imagine possible future worlds based on current cutting-edge Smithsonian research, in honor of the Institution's 175th anniversary. Arizona State University's Center for Science and the Imagination (CSI) invited eight Smithsonian research teams to imagine what might be happening in 50 years' time in their unique areas of study. These 'future visions' were then translated by award-winning artist Brian Miller and acclaimed sci-fi writers Tochi Onyebuchi and Madeline Ashby into a series of forward-looking exhibition posters for a Smithsonian in the year 2071, along with flash fiction short stories set in the same world.
"Museums are used to looking back into history, but gazing into the future is a lot more unusual," said Glenn Adamson, curator. "In this project, we were able to pair historians and scientists with specialists in imagining tomorrow—it was the perfect way to mark the 175th anniversary of the Smithsonian, which has always been an engine of the future."
The 'Future Visions' posters will be on display in "FUTURES" when the exhibition opens Nov. 20 and will be available for free download on Future Tense, a channel on Slate presented in partnership with Arizona State University and New America, where the public can also explore the full collection of short stories and learn more about the Smithsonian teams behind them.
To celebrate the launch, Future Tense will also host a free online panel conversation between Miller, Ashby and Onyebuchi and with co-moderators Adamson and CSI Assistant Director Ruth Wylie Tuesday, Nov. 9, at noon EST.
"Futures are not determined by just one decision maker," Wylie said. "Instead they're built on countless cycles of deliberation, adaptation and inspiration drawn from multiple sources. The workshops distilled this process, activating a collaborative imagination between researchers, museum staff and the artists to envision the next 50 years of innovation and discovery."
Topics explored in "Future Visions" represent wide-ranging and current, compelling scholarship from different Smithsonian museums and research centers, creating 2071 visions that tackle some of the most complex ideas on the horizon. They include:
–Asteroid mining: Inspired by research from the Smithsonian Astrophysical Observatory, Ashby's short story, "Speculation," looks at a future where asteroid mining and other forms of off-world resource extraction pay off in rare metals and surprising new discoveries for the citizens of Earth.
–Mosquitos for good: Inspired by research from the Smithsonian Conservation Biology Institute at the National Museum of Natural History, Onyebuchi's "Blood Stream" reflects a world where global climate change's rise in mosquito populations make these pests into humanity's allies, bioengineered to collect data and even carry vaccines.
–Museums of the future commemorating 2020: Inspired by a team from the National Museum of African American History and Culture (NMAAHC), Onyebuchi's "30 Second Situation" creates a future where technology develops in unpredictable ways, with a big impact on museums, detailing a sensorially immersive NMAAHC exhibit of 2071 that connects visitors to the events of the summer of 2020.
–Kids voting: Inspired by the work of the National Museum of American History in tracing the history of democracy, Ashby writes "Claremont v. Florida," where the right to participate in elections continues its expansion, and judicial cases around climate migration and criminal justice reform have opened the voting booth to younger citizens.
–Correcting the historical record: Inspired by research from the American Women's History Initiative, Smithsonian Libraries and Archives and the Smithsonian Data Science Lab, Onyebuchi's "Herēka" posits a world where the systemic erasure of historically marginalized peoples is overcome.
–Humans on the moon and museums in orbit: Inspired by teams at the National Air and Space Museum, Ashby's "In Pursuit of Extra-Terrestrial Life" plays out how a future international crew of researchers, scientists and museum professionals learn how to safely bring a fetus to term on the moon, ushering in a new generation of humanity among the stars.
–Bionic sports: Inspired by research from the Lemelson Center for the Study of Invention and Innovation at the National Museum of American History, Ashby's "Assists" posits a future world where games and play evolve along with humans and technology, with new sports that allow athletes of all abilities to compete on an equal playing field.
–Ecosystem management amid climate change: Inspired by research teams at the Smithsonian Tropical Research Institute, Onyebuchi's "Equipoise" reimagines the Smithsonian's real-life research station in Panama cultivating mangrove forests as a strategy to mitigate the effects of climate change in a future altered by warming oceans and rising seas.
Onyebuchi is a Nigerian American science fiction and fantasy writer and a former civil rights lawyer. He is the author of the young adult novel Beasts Made of Night, which won the Ilube Nommo Award for Best Speculative Fiction Novel by an African, its sequel, Crown of Thunder, and War Girls. His novella Riot Baby,a finalist for the Hugo, the Nebula, the Locus, the Ignyte and the NAACP Image awards, won the New England Book Award for Fiction and an ALA Alex Award. Ashby is a Canadian American science fiction writer and strategic foresight consultant. She is the author of the Machine Dynasty series from Angry Robot Books and the novel Company Town from Tor Books. Miller is known for his pop culture "propaganda" artwork, and he currently illustrates artwork for Star Wars, Doctor Who, The X-Files and more. His characters come from comics, film, television and video games, and he has illustrated cover art for graphic novels and comics for publishers such as Disney, IDW and Titan UK.
For more information about AIB and to plan a visit to "FUTURES," the public can go to aib.si.edu.
About "FUTURES"
Designed by architect David Rockwell and his award-winning firm Rockwell Group, "FUTURES" will fill the historic Arts and Industries Building with 32,000 square feet of new artworks, interactives, prototypes, inventions and "artifacts of the future," as well as historic objects and discoveries from 23 of the Smithsonian's museums and research centers. It will showcase stories of future-makers who are working tirelessly towards a more equitable, peaceful and sustainable world—inventors and creators, activists and organizers—with a special focus on communities who may not have always had a voice in future-making. Visitors will be able to glimpse how past visions have shaped where we are today as a way to imagine their own version of humanity's next chapter.
A digital "FUTURES" Guide by award-winning firm Goodby Silverstein & Partners will launch in early 2022.
"FUTURES" is made possible by a select group of sponsors and supporters: Amazon Web Services, Autodesk, Bell Textron Inc., Jacqueline B. Mars, John and Adrienne Mars, the Embassy of the State of Qatar, David M. Rubenstein, and SoftBank Group. Major support is also provided by the Annenberg Foundation, Bloomberg Philanthropies, Kevin S. Bright and Claudia W. Bright, and Robert Kogod. Additional funding is provided by Accenture, John Brock III, Events DC, First Solar, Ford Motor Company, Wendy Dayton, Charlie and Nancy Hogan, the Suzanne Nora Johnson and David Johnson Foundation, Lyda Hill Philanthropies, MedWand Solutions, National Football League, the National Football Players Association and Oracle.
About the Arts and Industries Building
The Arts and Industries Building (AIB) is a home for the future-curious. The Smithsonian's second-oldest building opened in 1881 as America's first National Museum, an architectural icon in the heart of the National Mall. Its soaring halls introduced millions to wonders about to change the world—Edison's lightbulb, the first telephone, Apollo rockets. Dubbed "Palace of Wonders" and "Mother of Museums," AIB incubated new Smithsonian museums for over 120 years before finally closing to the public in 2004."FUTURES" is a milestone first step in the long-term plan to renovate and permanently reopen this landmark space. For more information, visit aib.si.edu. Follow the museum on Facebook, Instagram and Twitter.