Skip to main content
Relax, Recharge and Renew Yourself (and the Planet)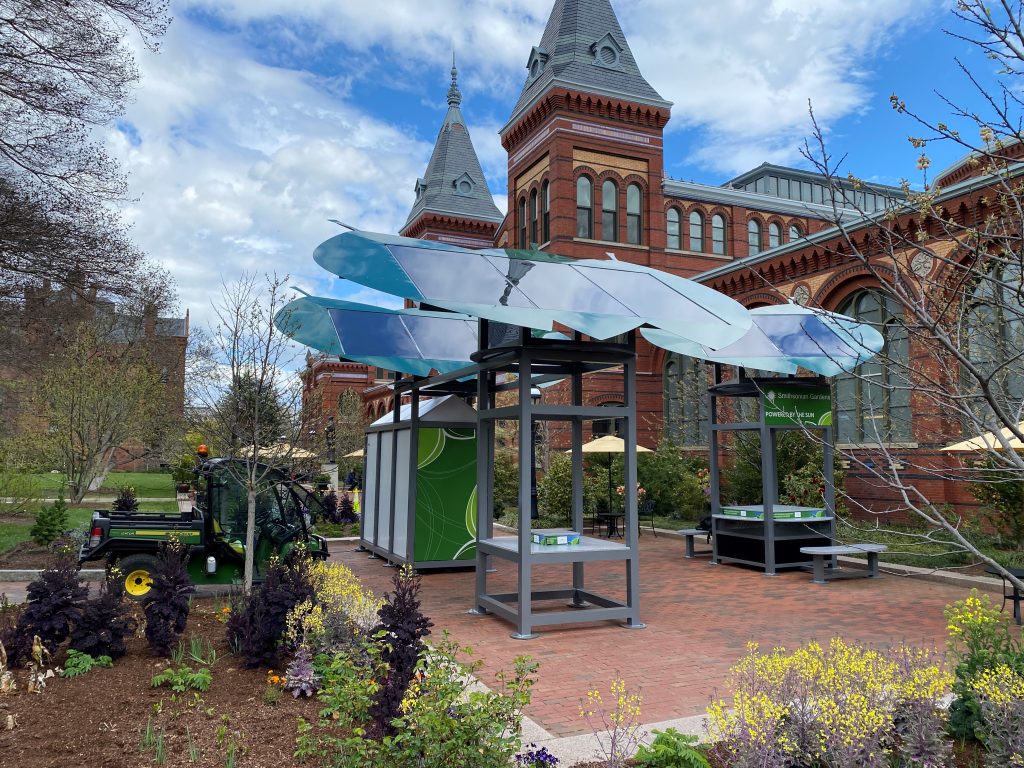 What can travel 186,282 miles per second, and also charge your phone? Photons! Just in time for Earth Day 2022, these power particles will be covering the 93 million miles from the sun to the earth in just eight minutes to be turned into usable clean energy by our Recharge Stations, a new interactive installation that makes working solar power available to you, the visitor.
FUTURES is partnering with Smithsonian Gardens and leading solar technology company First Solar to debut the eco-friendly stations, on view in the Enid. A. Haupt Garden next to the Arts + Industries Building. You'll be able to recharge your batteries in new ways—both by taking a seat to connect to nature, and by plugging in your portable devices—in a real-world introduction to the potential of solar energy.
The gazebo-like installations are covered with photovoltaic (PV) solar panels that charge several devices at once, run cooling fans, and offer shaded resting spots. They will also power electronic landscaping equipment that Smithsonian horticulturists will use to maintain and beautify the surrounding gardens—part of the institution's goal to reduce its carbon footprint.
The eco-efficient thin film solar PV panels used in the Recharge Stations are both recycled and recyclable. They use a semiconductor material—a thin film just 3% the thickness of a human hair that can capture and transform energy—that is made from by-products of the mining industry that would otherwise be relegated to a waste pit. It can also be recycled over 40 times, with the potential to generate clean energy for over 1,200 years.
At the end of their 30-year-long useful life, the panels can be recycled with a 90% recovery rate. The semiconductor material can be recycled into new modules, their glass can be recycled into glass containers, and the laminate can be converted into latex for use in bicycle handles and shoe soles.
The design of the Stations is inspired by biomimicry, echoing the shapes and functions of plant leaves. Just as plants use the sun's energy to create food, the solar panels transform the same renewable resource into the uniquely modern need of clean energy.
The Recharge Stations were designed by and donated to the Smithsonian by First Solar, a leading sustainable solar energy technology company. The company's solar panels, developed at R&D labs in California and Ohio, power utility-scale solar power plants across the United States and in over 45 countries around the world.
Smithsonian Gardens welcome more than 25 million annual visitors, making it one of the most highly visited public gardens in the world, with 13 exhibition gardens throughout the National Mall and D.C. Often called a "museum without walls," Smithsonian Gardens offers a vibrant and vital living classroom and urban sanctuary. While the Recharge Stations are currently planned for display in the Haupt Garden through early 2023, they'll be moving to new garden locations across Smithsonian to welcome and inspire visitors for years to come.