July 13, 2021
New Smithsonian Film Project "Futures We Dream" To Showcase Uplifting Visions of Eight Communities Across the U.S.
Award-Winning Filmmakers to Shine Light on Social Justice with Co-Chairs LL COOL J and Kevin Bright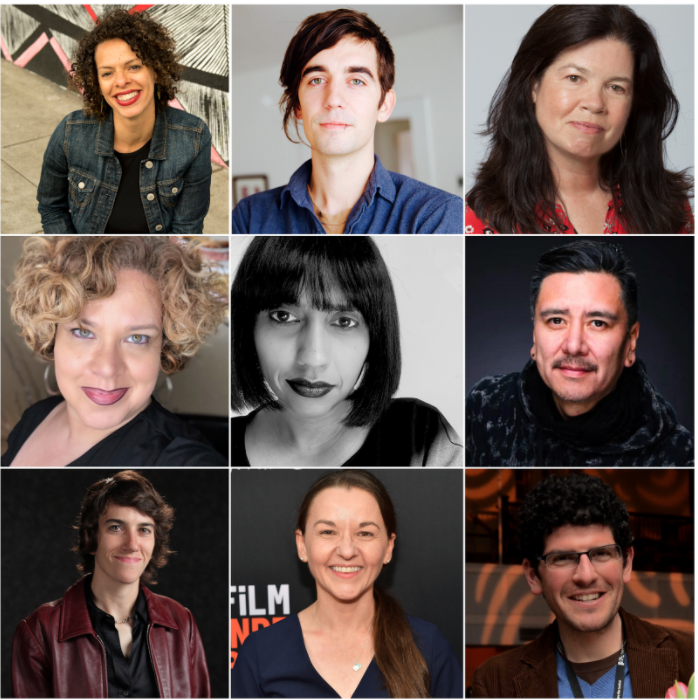 Debuting this November in the Smithsonian's groundbreaking 'FUTURES' exhibition at the historic Arts and Industries Building, a new series of commissioned short films will spotlight the extraordinary ways diverse communities across the U.S. are shaping their own more hopeful futures. Blending documentary, social activism, music, and poetry, "Futures We Dream" will feature new works by nine award-winning independent filmmakers, all created throughout 2020 and 2021 and all responding to a pivotal period of change and challenge in the country.
The project is a first of its kind partnership between the Smithsonian and the nationally acclaimed nonprofit The Alliance for Media Arts + Culture, with Grammy Award-winning entertainment icon LL COOL J and Kevin Bright, the longtime executive producer and director of the TV show Friends, as co-chairs of the series.
On view through July 2022, "FUTURES" will be the first major building-wide exploration of the future on the National Mall and will temporarily reopen America's oldest national museum for the first time in nearly two decades. The part-exhibition/ part-festival will celebrate the Smithsonian's 175th anniversary with more than more than 150 objects, ideas, prototypes, and installations that fuse art, technology, design, and history to help imagine possible futures on the horizon.
To create "Futures We Dream," each filmmaker partnered with a local grassroots organization, resulting in unique creative collaborations that uplift those facing some of the most pressing social justice issues across the U.S., including: healthcare, environment, Indigenous rights, youth incarceration, cultural heritage, immigration, and more. Filmmakers and community members worked together to articulate their vision for the future grounded in hope, resilience, and inspiration.
Films featured will be:
● "Succulent City"—Created by Philadelphia-based filmmaker Mike Attie, most recently the winner of the grand jury award at AFI Docs, this film will meld spoken word and music performance set in Philadelphia's urban farms to dismantle stereotypes of agriculture and slavery and to create a future imagined by ancestors where all voices carry and all hands build. Attie partnered with PhillyCAM.
● "NuWu Means the People"—Multi-award winning filmmaker Ben-Alex Dupris (Colville Tribes, Mnicoujou Lakota) will glimpse a magical future for the NuWu, the first people of Nevada, through artists who are turning a cluster of dilapidated buildings in Las Vegas into a vibrant community hub. Dupris partnered with NuWu Art.
● "Dreaming in Green: Concrete Dreams"—South Asian award-winning photographer and professor Leena Jayaswal will use a public art project that draped colorful saris around Washington, D.C. as a backdrop for communities of color to rise up to protect the planet, pledging a future filled with light and healing. Jayawal worked with Project Create.
● "On the Pulse of Life"—Emmy-nominated filmmaker Jessica Jones will document the birth justice moment in Alameda County, California, where Black babies are less than half as likely to survive as white babies, fighting for a future where "the first few breaths of life" are equally precious for all. Jones, a new Black mother herself, worked with BElovedBIRTH Black Centering.
●"Appalachian Futures"—Emmy-nominated filmmakers, activists, and journalists Sally Rubin and Ashley York will share untold glimpses of a future Appalachia where young people can and want to stay, and the region can thrive. They partnered with the STAY Project.
● "Rising"—Mildred Ruiz-Sapp, a Puerto Rican native New Yorker and Mellon National Foundation-awarded playwright and actor, will follow the phoenix-like resurgence of the town of Ashland, Oregon following the devastating Almeda Fires of 2020, led by an unlikely band of artists from the Oregon Shakespeare Festival. Ruiz-Sapp partnered with Southern Oregon Shakes SafetyNet.
● "Freedom Constellations"—multimedia artist and activist Mark Strandquist will tell stories of and with youth impacted by the juvenile justice system, time-traveling to a future where all young people are free and safe. Strandquist partnered with Richmond, Virginia-based Performing Statistics.
● "Tiichajil (Good Life)"—Academy Award- and Sundance Award-winning director and producer Pamela Yates will introduce viewers to three Mayan men from Guatemala seeking asylum in Texas, and their journey to a more hopeful future following months in an ICE detention center. Yates partnered with the members of the Pueblo Maya-Ixil. As a creative platform, all "Futures We Dream" films will be screened on a loop in a Rockwell Group-designed viewing space within the exhibition, and available on each filmmaker's websites.
"'Futures We Dream' opens the aperture of our collective understanding, amplifying unheard perspectives across the breadth of America," said Monica O. Montgomery, programming and social justice curator at the Arts and Industries Building. "The series answers the question, what do we dream of, by showcasing stories about everyday people making a difference and speaking truth to power with optimism, resilience, and pride of place."
"Producing a film program for 'FUTURES' has been an extraordinary collaboration with the Smithsonian," said Wendy Levy, executive director of The Alliance for Media Arts + Culture. "We share a commitment to a just and hopeful future, and this work at the intersection of art, technology, culture, and community."
The Alliance for Media Arts + Culture is dedicated to promoting innovation and cultural impact for film, technology, and digital media. To create "Futures We Dream," the filmmakers regularly gathered for Alliance-hosted virtual 'labs' offering connection and support through the creative process.
"We wanted to model a possible future film industry that is less hierarchical and more caring and equitable," Levy said. "The result is eight intentional works of art—powerful, futuristic, delightful evocative—co-created by a network of artists deeply embedded in their communities."
"Futures We Dream" is made possible by Kevin S. Bright and Claudia W. Bright, with in-kind support from LG Display.
About "FUTURES"
Designed by architect David Rockwell and his award-winning firm Rockwell Group, "FUTURES" will fill the historic Arts and Industries Building with 32,000 square feet of new artworks, interactives, prototypes, inventions, and "artifacts of the future," as well as historic objects and discoveries from 23 of the Smithsonian's museums and research centers. It will showcase stories of future-makers who are working tirelessly towards a more equitable, peaceful and sustainable world—inventors and creators, activists and organizers—with a special focus on communities who may not have always had a voice in future-making. Visitors will be able to glimpse how past visions have shaped where we are today, as a way to imagine their own version of humanity's next chapter.
A digital "FUTURES" Guide by award-winning firm Goodby Silverstein & Partners will launch late summer 2021 in advance of the exhibition opening. A full slate of dynamic, future-forward performances, pop-ups, virtual events, workshops and late-night experiences will also be announced.
"FUTURES" is made possible by a select group of partners and supporters: Amazon Web Services, Autodesk, Bell Textron Inc., Jacqueline B. Mars, John and Adrienne Mars, the Embassy of the State of Qatar, David M. Rubenstein and SoftBank Group Corp. Major support is also provided by Accenture, the Annenberg Foundation, Bloomberg Philanthropies, Kevin S. Bright and Claudia W. Bright and Robert Kogod. Additional funding is provided by John Brock III, Wendy Dayton, Nancy Hogan and Lyda Hill Philanthropies.
About the Arts and Industries Building
The Arts and Industries Building (AIB) opened in 1881 as the country's first National Museum, an architectural icon in the heart of the National Mall. Its soaring halls introduced millions of Americans to wonders about to change the world—Edison's lightbulb, the first telephone, Apollo rockets. Dubbed "Palace of Wonders" and "Mother of Museums," AIB incubated new Smithsonian museums for over 120 years before finally closing to the public in 2004. "FUTURES" is a milestone first step in the long-term plan to renovate and permanently reopen this landmark space.