Skip to main content
AIB is temporarily closed.
Nettrice Gaskins' Featured Futurists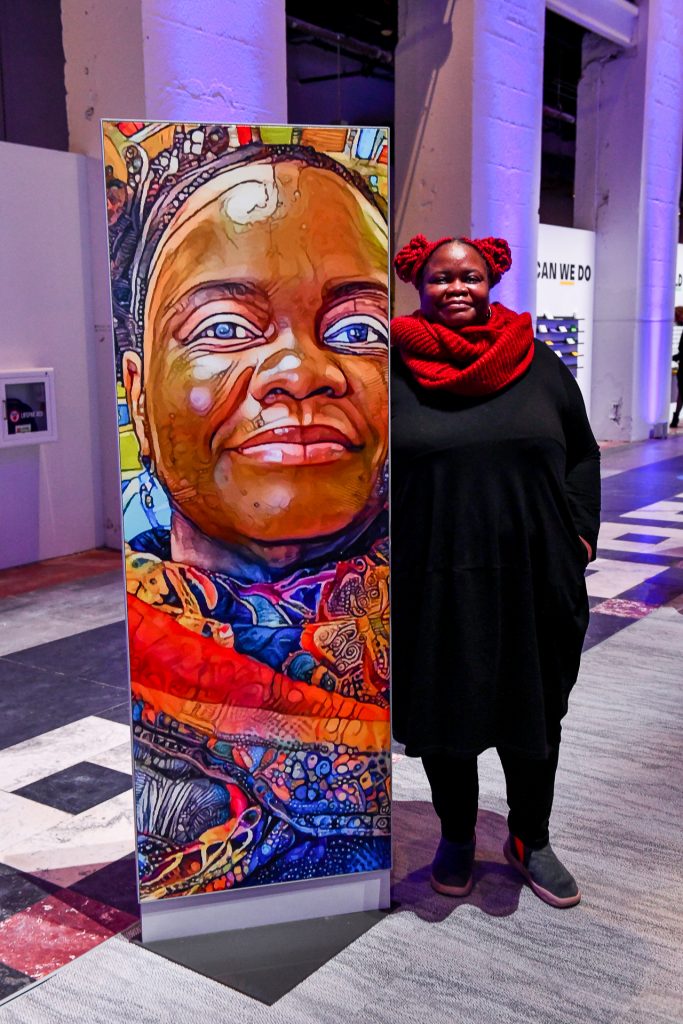 Digital artist, researcher, and educator Nettrice Gaskins used an A. I. neural network application called Deep Dream to create a series of 11 portraits of "Featured Futurists" who are included in the exhibition. Deep Dream synthesized an image of each subject with other patterns to create new aesthetic vocabulary beyond the scope of human thought. These portraits open new frontiers of artistic expression while posing moral and ethical questions about future uses of A.I. With algorithms and machine learning as her media, Gaskins explores what she calls "techno-vernacular creativity" with her practice.
READ MORE
ARTNET: To Celebrate Its 175th Birthday, The Smithsonian Will Stage Blowout Exhibition featuring Five New Commissions
read more
SMITHSONIAN MAGAZINE: IMMERSE YOURSELF IN FIVE FUTURISTIC WORLDS
read more
SMITHSONIAN MAGAZINE: PIONEERING SCI-FI WRITER OCTAVIA BUTLER JOINS A PANTHEON OF FUTURISTS
read more




Artist Statement
Where traditional artists would wield a paint brush, or camera, the 21st century affords artists tools from artificial intelligence to 2D imaging and 3D modeling to virtual reality, enabling them to create in innovative and novel ways. Advancing technologies have dared artists to take new risks and art has responded in kind. My work explores human imagination and software algorithms to produce visuals that open up new possibilities for creative expression. This includes interactions between art and technology that trigger conversations about aesthetics, as well as ethical and moral questions about the creation and future uses of artificial intelligence.
My artwork sits at the juncture between the physical and the artificial or digital, which includes the interplay between images, sounds, algorithms, and data. I use the Internet as a primary platform to exhibit my work such as in virtual 3D environments where different ideas are expanded beyond what is possible in the physical world.
"Machine learning seems futuristic, but strange to say, it helps artists like me to rediscover humanity."
—Nettrice Gaskins
About Nettrice Gaskins
Dr. Nettrice R. Gaskins is an African American digital artist, academic, cultural critic and advocate of STEAM fields. In her work she explores "techno-vernacular creativity" and Afrofuturism.
Dr. Gaskins teaches, writes, "fabs", and makes art using algorithms and machine learning. She has taught multimedia, computational media, visual art, and even Advanced Placement Computer Science Principles with high school students who majored in the arts. She earned a BFA in Computer Graphics with Honors from Pratt Institute in 1992 and an MFA in Art and Technology from the School of the Art Institute of Chicago in 1994. She received a doctorate in Digital Media from Georgia Tech in 2014. Currently, Dr. Gaskins is a resident in the Autodesk Technology Centers Outsight Network. She is the assistant director of the Lesley STEAM Learning Lab at Lesley University. Her first full-length book, Techno-Vernacular Creativity and Innovation through The MIT Press will be available in August 2021.
Gaskins served as Board President of the National Alliance for Media Arts and Culture (The Alliance) and was on the board of the Community Technology Centers Network (CTCNet). She is currently on the board of Artisan's Asylum.