Skip to main content
AIB is temporarily closed.
World-building with Marvel Studios' Eternals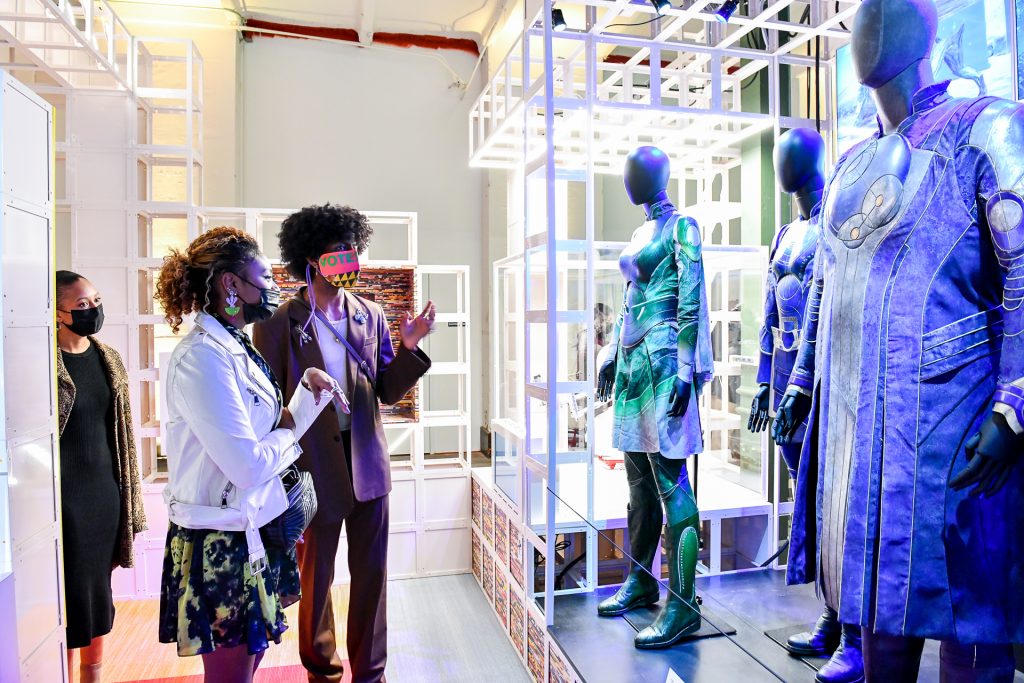 How can movie worlds help us imagine the future? FUTURES offers an insider look at the creative vision behind Marvel Studios' just released Eternals movie. Five original costumes showcase how evolutions in storytelling and cinema technologies can illustrate new futures in incredible ways.
Stories are a way to imagine endless other possibilities and to more fully understand other's visions for the future. Comics are known for taking readers on journeys to entirely new universes with their own languages, cultures, people, heroines, and places. Leaping from comic page to the screen, today's movies utilize the latest innovations to create a whole new experience of world-building and future casting. This ability to bring new future visions to life helps us push beyond what we think we may know to imagine new future worlds in a way that feels real.
Eternals is the newest storyline in the Marvel Cinematic Universe, originally a futuristic comic book series created and written in 1976 by the legendary Jack Kirby and now brought vividly to life by Academy Award-winning director Chloé Zhao. The epic story, time traveling through humanity's earliest civilizations to beyond the cosmos, features a group of immortal heroes forced out of the shadows to reunite against mankind's oldest enemy, The Deviants, to fight for the future.
Come face to face with original costumes of Sersi (Gemma Chan), Phastos (Brian Tyree Henry), Sprite (Lia McHugh), Druig (Barry Keoghan), and Ikaris (Richard Madden) within our Futures that Inspire hall, a space designed to explore leaps of imagination. Discover behind-the-scenes content that tracks the evolution of a new future world from sketch on paper to visual effects to finished film alongside a new immersive storytelling AR experience.
READ MORE
Marvel's Eternals Costumes to Debut at Smithsonian's FUTURES Exhibit
read more
SEE MORE