March 1, 2021
Smithsonian's FUTURES To Host Public Debut of Virgin Hyperloop's Milestone 'Pegasus' Pod
XP-2 Prototype Carried the World's First Hyperloop Passengers In Historic Late 2020 Test Run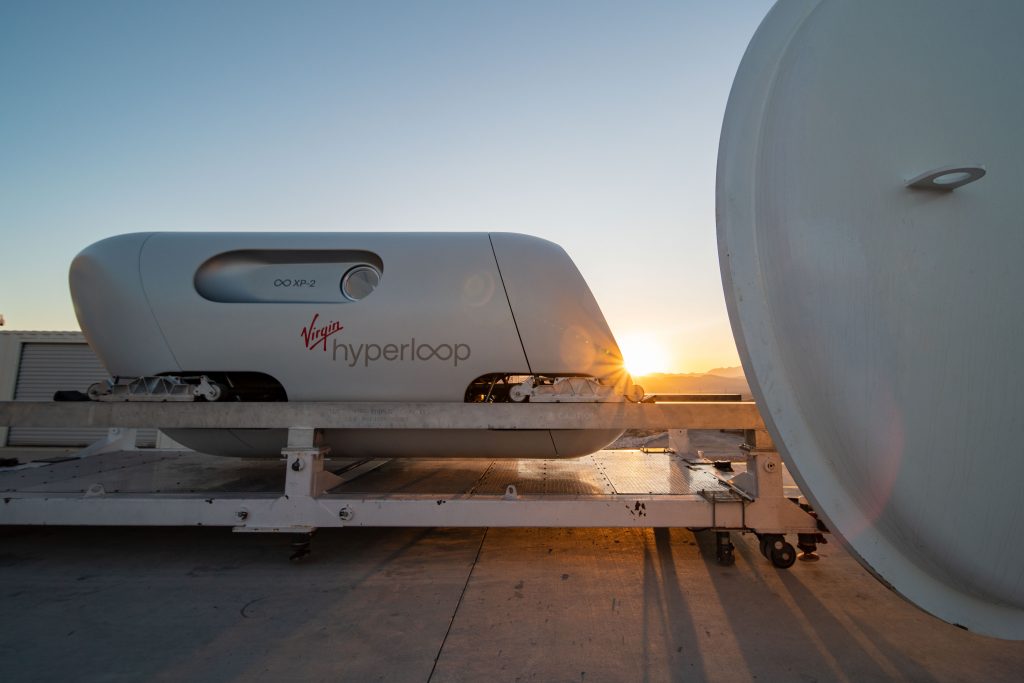 This 670 mph hyper-speed pod is the first leap forward in mass public transportation in a century, a next-gen mass transit system that has long been a staple of science fiction. In late 2020 Virgin Hyperloop made it one step closer to reality, and made global headlines, by successfully running the first human test of a technology that has long been a staple of science fiction. Starting this November, Smithsonian visitors will be able to encounter the Pegasus XP-2 pod for the first time, coming up close and personal to a piece of transportation history—and its future—at the ground-breaking FUTURES exhibition in the historic Arts + Industries Building (AIB).
Celebrating the Smithsonian's 175th anniversary, FUTURES will temporarily reopen AIB, America's first National Museum, for the first time in nearly two decades with the Smithsonian's first major building-wide exploration of the future. This bold new museum experience will fuse art, technology, design and history to invite visitors to dream big and imagine not just one future, but many possible futures on the horizon. FUTURES will be free and open to time-travelers everywhere through July 2022.
In summer 2021, the Pegasus will begin its cross-country journey from Virgin Hyperloop's Las Vegas test site 'DevLoop' to the Smithsonian in Washington, D.C. At AIB, audiences will be able to encounter the Pegasus in full 360 degrees, peer inside its Bjarke Ingels-designed futuristic interior, and learn more about the technology behind it within the Futures that Work hall, a space designed to both inspire and raise questions around possible solutions for a sustainable, equitable world.
Hyperloop technology is an example of one such possible future, transporting people or cargo at airline speeds and with zero direct emissions—all enabled by a magnetic levitation system in a near vacuum. This could reduce the four-hour drive from Washington, D.C. to New York to under 30 minutes, or enable a commute from Los Angeles to San Francisco in 45 minutes.
"Since opening in 1881, the Arts + Industries Building has been an incubator of big ideas that have gone on to profoundly impact the world around us," said Rachel Goslins, director of AIB. "Hyperloop technology is one of those leaps that could signal a transformative shift in how we could live and travel. We're thrilled be able to debut the Pegasus X-2 pod in the very building where Americans first encountered famous steam engines, the Apollo 11 lunar capsule and the Spirit of St. Louis."
"FUTURES is an incredible opportunity to collaborate with some of the greatest minds and most ambitious initiatives around the world," said Ashley Molese, curator. "At its core, this exhibition is about optimism and recognizing the many forces among us, like hyperloop, that are rapidly approaching and have the potential to transform our visitors' daily lives. The ability to reduce a journey of many hours to just a few minutes is in and of itself a revolution, a way to connect people in ways we didn't think possible."
About FUTURES

Designed by architect David Rockwell and his award-winning firm Rockwell Group, FUTURES will introduce nearly 32,000 square feet of new immersive site-specific art installations, interactives, working experiments, inventions, speculative designs and "artifacts of the future," as well as historic objects and discoveries from 23 of the Smithsonian's museums and research centers. Art commissions, large-scale technology projects, a cutting-edge mobile experience by award-winning firm Goodby Silverstein & Partners and a national film project will be announced throughout 2021.
FUTURES will also showcase stories of future-makers who are working tirelessly towards a more equitable, peaceful, and sustainable world—inventors and creators, activists and organizers—with a special focus on communities who may not have always had a voice in future-making. Visitors will be able to glimpse how past visions have shaped where we are today, as a way to shape their own version of humanity's next chapter. Instead of simply asking what kind of future we want to live in, visitors will also be challenged to consider why.
FUTURES is made possible by a select group of partners and supporters: Amazon Web Services, Autodesk, Bell Textron, Inc., Jacqueline B. Mars, John and Adrienne Mars, the Embassy of the State of Qatar, David M. Rubenstein, and SoftBank Group Corp. Major support is provided by the Annenberg Foundation, Bloomberg Philanthropies, Kevin S. Bright, and Robert Kogod. Funding is also provided by John Brock III, Wendy Dayton, Nancy Hogan, David G. Johnson, and the Lyda Hill Foundation. Additional support is provided by Vin Di Bona, Jorge Puente, and Ivan Selin.
About the Arts + Industries Building
The Arts + Industries Building (AIB) opened in 1881 as the country's first National Museum, an architectural icon in the heart of the National Mall. Its soaring halls introduced millions of Americans to wonders about to change the world – Edison's lightbulb, the first telephone, Apollo rockets. Dubbed "Palace of Wonders" and "Mother of Museums," AIB incubated new Smithsonian museums for over 120 years before finally closing to the public in 2004. FUTURES is a milestone first step in the long-term plan to renovate and permanently reopen this landmark space.
Open dates: November 2021–July 2022
Admission: FREE
Virtual FUTURES: An interactive mobile FUTURES Guide will launch late summer 2021 in advance of the exhibition opening, a toolkit for future worlds that people can explore anytime, anywhere; to be announced.
Special events and programs: Expect a full slate of dynamic, future-forward performances, pop-ups, virtual events, workshops and late-night experiences; to be announced.
Media contacts:
Allison Peck
Director of External Affairs, Smithsonian Arts + Industries Building
pecka@si.edu
202.633.5198
Kate Morais
Sutton
kate@suttoncomms.com
917.664.5758
Images: Link to Dropbox