October 20, 2021
Smithsonian Will Debut New Digital "FUTURES Beacons" to Invite Visitors to 'Time Travel' to Their Own Future
First-of-Its-Kind Museum Experience Technology from LAB at Rockwell Group Melds Psychology, Gaming, Holograms and Gesture Control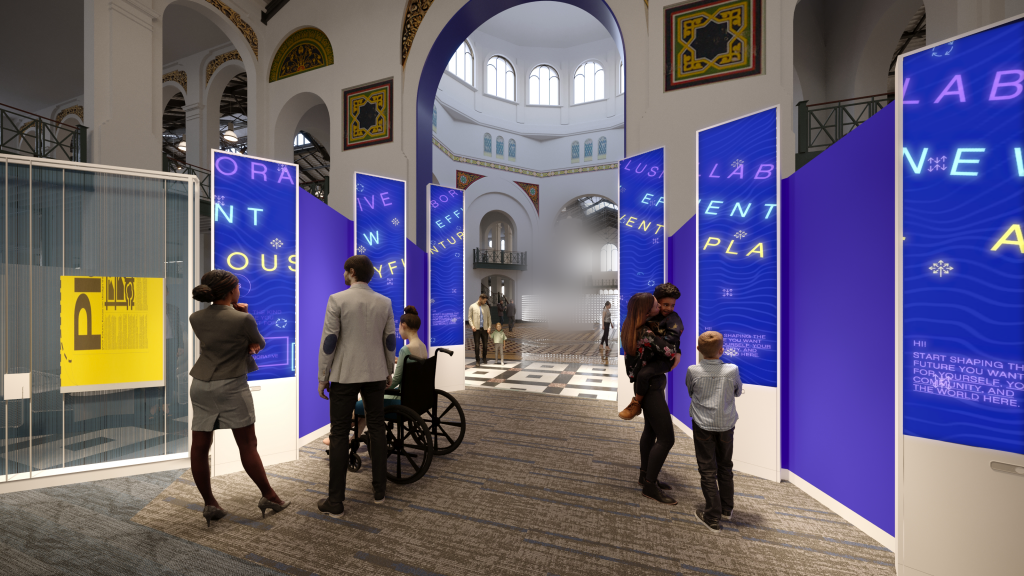 Nearly two years in the making, a new form of museum experience will debut at "FUTURES," the Smithsonian's first major building-wide exploration of the future opening Nov. 20 in its historic Arts + Industries Building (AIB). Called "FUTURES Beacons," the large-scale technology interactive will infuse the entire exhibition with a playful layer of digital storytelling, inviting visitors on a journey to create, debate and shape a future of their own making.

Designed in partnership with Smithsonian and the award-winning experiential studio LAB at Rockwell Group, with support from global investor Softbank Group Corp. and Palo Alto-based nonprofit Institute for the Future (IFTF), the "FUTURES Beacons" interactive combines game design, research into the psychology of future thinking, and cutting-edge technology.

"FUTURES Beacons" will be placed strategically throughout AIB to act as wayfinding and rallying points for reflection and action. As visitors explore the exhibition, the 10-foot-tall LED installations will beckon them to start a conversation about the future they want to see, inspired by the objects around them. Through emotionally engaging dialogue and surprising interaction, the "Beacons" guide visitors into a deeper visualization of the future they want for themselves, their community and the world.

"FUTURES invites everyone to think more creatively and flexibly about tomorrow and beyond," said Rachel Goslins, director of AIB. "'The 'FUTURES Beacons' help visitors explore doubts and dreams, charting a course to be freer, more ourselves, more human. We are thrilled to collaborate with Rockwell, Softbank, IFTF, and teams of brilliant creators to bring this to life.'

"This project is an ambitious new paradigm for technology in museums, inviting visitors to speculate with us in real-time," said Brad MacDonald, director of creative media at AIB. "'FUTURES Beacons' act as mirrors, designed to not only spark hope and agency but to reveal visitors' own vision for the future. Our goal is that they learn as much about themselves as they will about the exhibition."

To create "FUTURES Beacons," the LAB at Rockwell Group layered emerging technologies not yet seen together—massively-scaled LED displays, holograms, video game mechanics, multiplayer interactions, data visualization and intuitive ultrasonic haptic controls that allow visitors to gesture mid-air to select choices on screen, creating the illusion of touch without making contact.

"LAB at Rockwell Group's digital experience invites visitors to imagine what a version of the future might look like," said David Rockwell, founder and president, Rockwell Group. "'FUTURES Beacons' suggests a future where technology is intimately connected to human observations, removing obstacles and paving the way for us to see new possibilities everywhere. Our design team created a series of pavilions, organized as walkable 'cabinets of curiosity.' These unconventional, optimistic and playful architectural forms are designed to pair seamlessly with the LAB's digital storytelling, offering visitors the freedom to explore a wide range of possible futures."

Visitors will be able to see an engaging visual representation of their own personal values and ideas, plus speculative headlines from the future they're creating and moment-to-moment insights about how their responses compare to others. As they exit, a large digital mirror will reflect them in the middle of a massive algorithmically generated kaleidoscope representing all the possible futures that have been created. Additional data visualizations will depict the futures visitors most want and unpack possible future timelines.
The "FUTURES Beacons'" script is grounded in research from the IFTF around storytelling tools that help people to imagine the future more clearly and empathize with citizens of the future. The concept is called "specificity training," a form of mental time travel to get the brain to imagine what doesn't yet exist.
"Too often when we try to imagine a better world, our minds go blank," said Jane McGonigal, director of game research and development at IFTF. "What future, exactly, do we want to wake up in? But we can learn to fill in those blanks with concrete and surprising ideas that are inspired by real innovations already underway, the kind on full display at AIB. And this imagination training can help us build authentic hope for the future, even in the face of urgent global challenges like pandemic recovery and climate change."
At the end of FUTURES, AIB and IFTF hope to examine the data of aggregate responses to see what trends and insights emerge.
The project is supported by SoftBank Group, one of the world's largest global technology investors. SoftBank invests in companies using artificial intelligence and transformational technologies with a goal to positively impact the way people work, live and play.
"'The FUTURES' exhibit challenges our assumptions about what tomorrow will bring and inspires us to create our destiny together," said Marcelo Claure, CEO of SoftBank Group International and COO of SoftBank Group Corp. "That's what we do at SoftBank every day. The exhibit invites us to think more expansively about the active role we each play in shaping our shared future, and echoes SoftBank's vision of a world where technology enables positive change that can improve people's lives."

About "FUTURES"

"FUTURES" will be on view through July 6, 2022 and will fill the historic Arts and Industries Building with 32,000 square feet of new artworks, interactives, prototypes, inventions and "artifacts of the future," as well as historic objects and discoveries from 23 of the Smithsonian's museums and research centers. It will showcase stories of future-makers who are working tirelessly towards a more equitable, peaceful and sustainable world—inventors and creators, activists and organizers—with a special focus on communities who may not have always had a voice in future-making. Visitors will be able to glimpse how past visions have shaped where we are today, as a way to imagine their own version of humanity's next chapter.

A digital "FUTURES" Guide by award-winning firm Goodby Silverstein & Partners will launch in early 2022. A full slate of dynamic, future-forward performances, pop-ups, virtual events, workshops and late-night experiences will also be announced.
"FUTURES" will open with a "FUTURES Remixed" festival, kicking off in early November. For more information on the exhibition and to plan a visit, go to aib.si.edu.

"FUTURES" is designed by architect David Rockwell and his award-winning firm Rockwell Group and made possible by a select group of sponsors and supporters: Amazon Web Services, Autodesk, Bell Textron Inc., Jacqueline B. Mars, John and Adrienne Mars, the Embassy of the State of Qatar, David M. Rubenstein, and SoftBank Group. Major support is also provided by the Annenberg Foundation, Bloomberg Philanthropies, Kevin S. Bright and Claudia W. Bright, and Robert Kogod. Additional funding is provided by Accenture, John Brock III, Events DC, First Solar, Ford Motor Company, Wendy Dayton, Charlie and Nancy Hogan, the Suzanne Nora Johnson and David Johnson Foundation, Lyda Hill Philanthropies, MedWand Solutions, National Football League, the National Football Players Association, and Oracle.

About the Arts and Industries Building

The Arts and Industries Building (AIB) opened in 1881 as the country's first National Museum, an architectural icon in the heart of the National Mall. Its soaring halls introduced millions of Americans to wonders about to change the world—Edison's lightbulb, the first telephone, Apollo rockets. Dubbed "Palace of Wonders" and "Mother of Museums," AIB incubated new Smithsonian museums for over 120 years before finally closing to the public in 2004. "FUTURES" is a milestone first step in the long-term plan to renovate and permanently reopen this landmark space. Follow the museum on Facebook, Instagram, and Twitter.