April 21, 2021
Smithsonian FUTURES Teams With Autodesk to Debut Future of Human-A.I. Design
New A.I.-Designed Museum Experience Invites Visitors to Co-create Their Ideal Future City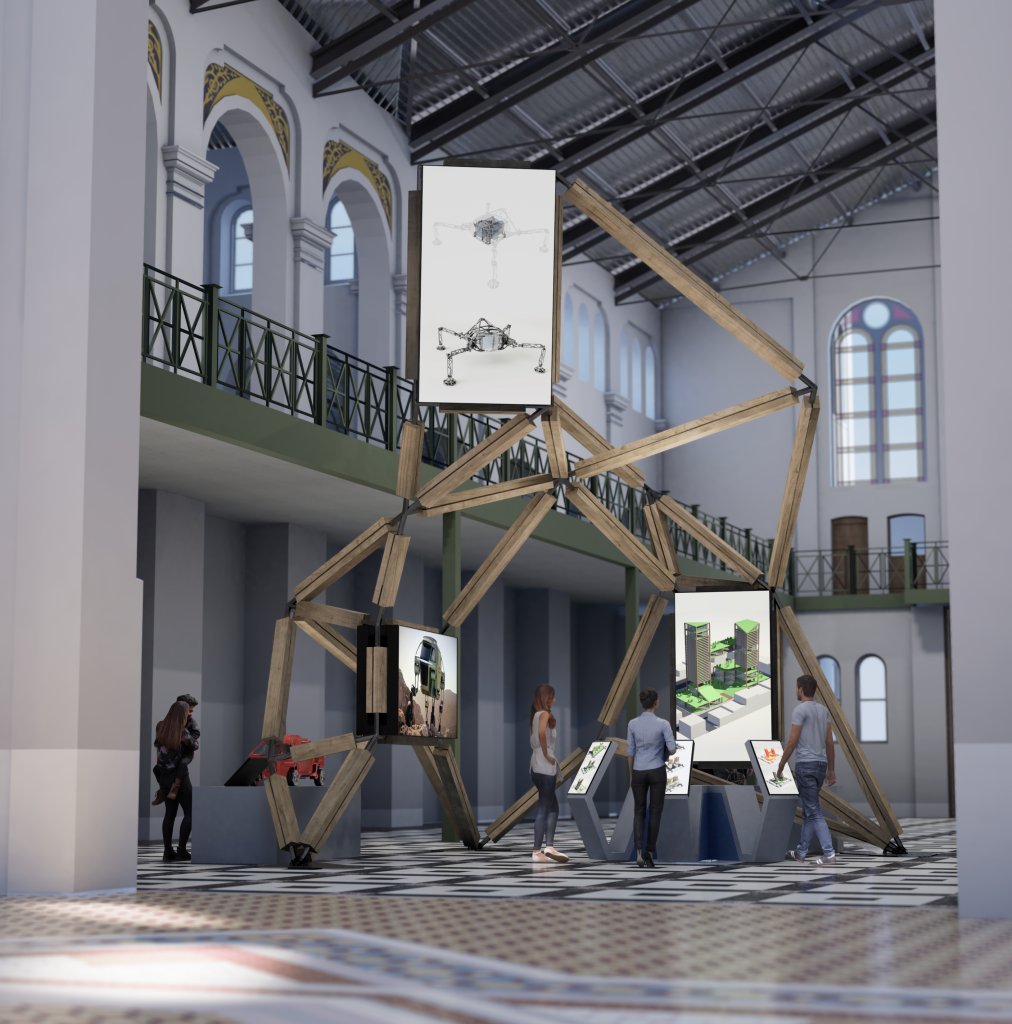 In the quest to solve big and world-changing problems, humanity has an exciting new partner on the horizon. Starting this November, visitors to the groundbreaking Smithsonian "FUTURES" exhibition at the historic Arts + Industries Building (AIB) will be among the first to pilot an experimental new way to design sustainable, inclusive future cities—by building them from the ground up, together. "The Co-Lab," a first-of-its-kind collaborative design experience developed with Autodesk, a leading provider of 3D design software, invites the public to bring their creativity and sense of play to co-design better, greener communities in real time, introducing a powerful generative artificial intelligence (A.I.) as their new design partner.
"FUTURES" celebrates the Smithsonian's 175th anniversary by temporarily reopening AIB, America's first National Museum, for the first time in nearly two decades. As the Smithsonian's first major building-wide exploration of the future, this bold new museum experience will fuse art, technology, design and history to invite visitors to dream big and imagine not just one future, but many possible futures on the horizon. "FUTURES" will be free and open to time-travelers everywhere through July 2022.
Created by a team of Autodesk researchers and AIB curators, the two-part exhibit will include "The Co-Lab," a seemingly impossible cantilevered structure soaring 22 feet in the air. Inspired by future-thinking projects like Buckminster Fuller's 1946 Dymaxion House and the utopian visions of Yona Friedman and Constant Nieuwenhuys, The Living, an Autodesk Research Studio, used A.I. to envision a novel, one-of-a-kind sustainable structure. The A.I. generated ideas beyond typical human design rules (video)—all while meeting strict goals of being light-weight, strong, easy to assemble and disassemble, and fitting within a small footprint. Despite its seeming complexity, the final design can be built with just 60 wood beams, 25 joints and minimal construction waste.
"The Co-Lab" will be a central destination of the exhibition's Futures that Unite hall, which explores the ways in which people can be more connected and inclusive, working more closely together to achieve shared goals.
Within the structure, a new digital interactive called "Future Communities" will invite friends and strangers to collaborate with each other and powerful A.I. to design their ideal future city block. Each visitor will be able to play as a different "persona" with unique social, climate and economic goals and differing needs. Behind the scenes, generative A.I. will drive the city block's evolution in real time, evaluating thousands of solutions to competing needs. Visitors can debate, delight and work together, prompted by the insights and suggestions of the A.I., to build skyscrapers and parks, improve community wellness, reduce carbon footprint and more. Over the run of "FUTURES," visitors will collectively bring to life thousands of different ideal communities, each unique to the group who co-created that particular future.
"Since opening in 1881, the Arts and Industries Building has been a place to think big and dream bigger," said Rachel Goslins, director of AIB. "With 'FUTURES,' we're literally teaming up with our visitors to imagine and create a future in which we all thrive. Autodesk is the perfect partner to help visualize this positive impact, bringing their technical expertise and passion for creative collaboration to this ambitious project."
"'FUTURES' lets us explore new tools like generative design that have the power to supercharge human imagination and tackle increasingly complicated 21st-century problems," said Brad MacDonald, director of creative media at AIB. "What we've created with Autodesk will feel as engaging as a game, housed inside a stunning design spectacle. The 'aha' moment for visitors is that in the near future, we could actually be designing our cities and homes this way. It's a participatory, collaborative process for design of almost anything."
"We share the Smithsonian team's fundamentally optimistic view of the future and believe everyone has a role to play in imagining new, more sustainable possibilities," said Andrew Anagnost, CEO of Autodesk. "Visitors can experience the real-time power of collaboration between people and technology and see how AI powered feedback can help make better design decisions. At Autodesk, this is the future of work we believe in."
About "FUTURES"
Designed by architect David Rockwell and his award-winning firm Rockwell Group, "FUTURES" will introduce nearly 32,000 square feet of new immersive site-specific art installations, interactives, working experiments, inventions, speculative designs and "artifacts of the future," as well as historic objects and discoveries from 23 of the Smithsonian's museums and research centers. Art commissions, large-scale technology projects, a cutting-edge mobile experience by award-winning firm Goodby Silverstein & Partners and a national film project will be announced throughout 2021.
"FUTURES" will also showcase stories of future-makers who are working tirelessly towards a more equitable, peaceful and sustainable world—inventors and creators, activists and organizers—with a special focus on communities who may not have always had a voice in future-making. Visitors will be able to glimpse how past visions have shaped where we are today, as a way to shape their own version of humanity's next chapter. Instead of simply asking what kind of future we want to live in, visitors will also be challenged to consider why.
"FUTURES" is made possible by a select group of partners and supporters: Amazon Web Services, Autodesk, Bell Textron Inc., Jacqueline B. Mars, John and Adrienne Mars, the Embassy of the State of Qatar, David M. Rubenstein and SoftBank Group Corp. Major support is also provided by Accenture, the Annenberg Foundation, Bloomberg Philanthropies, Kevin S. Bright and Claudia W. Bright and Robert Kogod. Additional funding is provided by John Brock III, Wendy Dayton, Nancy Hogan, Suzanne Nora Johnson and David Johnson Foundation, and Lyda Hill Philanthropies.
Virtual FUTURES: An interactive mobile FUTURES Guide will launch late summer 2021 in advance of the exhibition opening, a toolkit for future worlds that people can explore anytime, anywhere; to be announced.
Special events and programs: Expect a full slate of dynamic, future-forward performances, pop-ups, virtual events, workshops and late-night experiences; to be announced.
About the Arts + Industries Building
The Arts + Industries Building (AIB) opened in 1881 as the country's first National Museum, an architectural icon in the heart of the National Mall. Its soaring halls introduced millions of Americans to wonders about to change the world – Edison's lightbulb, the first telephone, Apollo rockets. Dubbed "Palace of Wonders" and "Mother of Museums," AIB incubated new Smithsonian museums for over 120 years before finally closing to the public in 2004. FUTURES is a milestone first step in the long-term plan to renovate and permanently reopen this landmark space.
Open dates: November 2021–July 2022
Admission: FREE
Media contacts:
Allison Peck
Director of External Affairs, Smithsonian Arts + Industries Building
pecka@si.edu
202.633.5198
Kate Morais
Sutton
kate@suttoncomms.com
917.826.9102
Images: Link to Dropbox