June 15, 2021
Smithsonian "FUTURES" to Unveil Five New Commissions by Leading Contemporary Artists
Visit alternate future worlds as imagined by Beatriz Cortez, Nettrice Gaskins, Soo Sunny Park, Devan Shimoyama, and Tamiko Thiel and /p in their Smithsonian debuts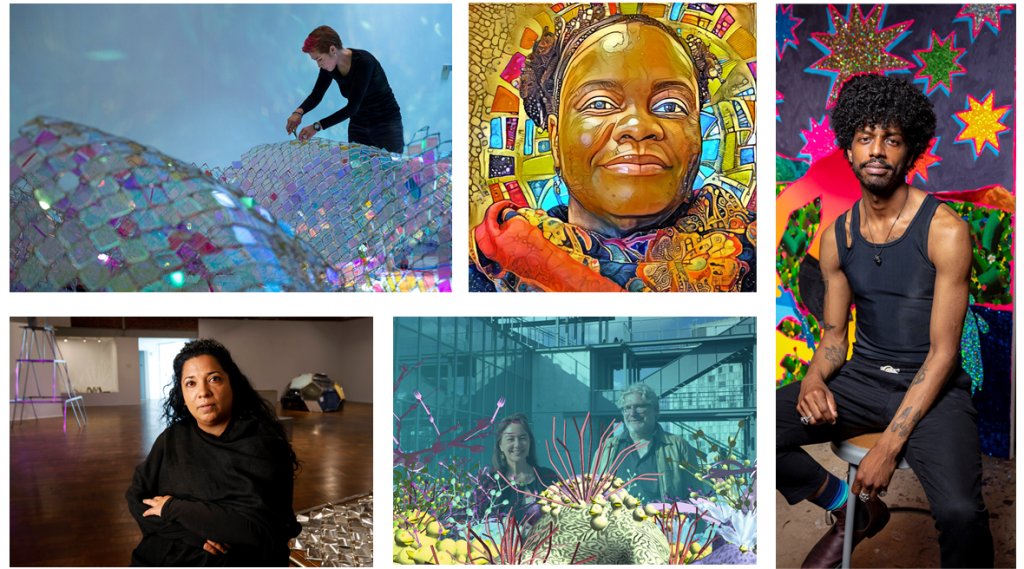 Opening this November, "FUTURES" at the historic Arts and Industries Building (AIB) will explore a myriad of possible futures on the horizon. As its first major commissioning project, AIB will invite five boundary-pushing contemporary artists to create their own speculative future worlds. These major site-specific projects will reflect the milestone occasion and iconic setting, and beguile visitors with a glimpse of the ways in which artists are at the forefront of affecting lasting and positive change.

On view through July 2022, "FUTURES" is the first major building-wide exploration of the future on the National Mall and will temporarily reopen America's oldest national museum for the first time in nearly two decades. The part-exhibition/part-festival will celebrate the Smithsonian's 175th anniversary with more than more than 150 objects, ideas, prototypes, and installations that fuse art, technology, design and history.

Artists Beatriz Cortez, Nettrice Gaskins, Soo Sunny Park, Devan Shimoyama, and the duo Tamiko Thiel and /p (Peter Graf) work in such diverse media as augmented reality, A.I., found objects, and industrial materials, blending their creative practices with deep research into technology, science, and community and cultural histories. Each has been asked to respond to both the building's historic architecture and a particular future themed section of the exhibition. All are making their Smithsonian debut.

"Artists provide a telescopic view of the human condition, a lens that allows the viewer to step out of themselves," said AIB curator Ashley Molese. "In 'FUTURES,' these brilliant and unfiltered installations will take an abstract concept like 'the future' and turn it into a portal of sorts, allowing visitors to transcend their own worldview. We are creating spaces of radical connection."

Los Angeles-based artist Beatriz Cortez (b. 1970, El Salvador) is known for multidisciplinary work that explores life in different temporalities and possible futures. For the exhibition's Futures that Work hall, she will create a space-time capsule inspired by both ancient Mayan "chultunes," stone containers carved to preserve precious natural and spiritual materials, and the 20th-century history of space travel. For "Chultun El Semillero" ("The Seedbed") Cortez will create her chultunes out of welded steel, fill them with living plants, seeds, and other tools, and carve them with a mathematical formula offering directions for the survival of life on Earth.

Based on archival research at the Smithsonian's National Museum of the American Indian, collaboration with Indigenous groups in her native Central America, and NASA's experiments in growing plants in space, Cortez imagines her work as a speculative space-time capsule to carry ancestral Indigenous knowledge into the future. "Chultun El Semillero" was also made at a time of debate about COVID-19 vaccine distribution and will invite visitors to consider who has access to future resources and how they might be distributed.

Munich-based new media artists Tamiko Thiel (b. 1957, Oakland, California) and collaborator /p will stage a "rewilding" through an augmented reality overlay that transforms the exhibition's Futures that Inspire hall into an overgrown wildflower meadow, bursting with virtual flowers and insects. Their "ReWildAR" portal will let visitors suspend disbelief by "seeing" into this vast surreal future landscape in real time and space, playing with the viewer's perception of where and when they are. Thiel collaborated closely with Smithsonian horticulture experts to create the working ecosystem of a future Washington, D.C., affected by climate change but still in symbiosis with human life. Known for being on the leading edge of computer technology, Thiel designed the form of the first commercial A.I. supercomputer in 1986, which is in the Smithsonian's National Museum of American History, and her AR and VR projects shift reality and fiction to expand how audiences see the world.

On the building's historic exterior, an iridescent new installation by Soo Sunny Park (b. 1975, South Korea) will invite visitors to cross the threshold of present to past to future. Titled "Expanded Present," the massive and ethereal cloud of reflective material will envelop the entrance to "FUTURES," reflecting the light differently based on weather, times of day, and the spot from which it is viewed. Park creates her sculptural light installations by molding materials like fencing, metal studs and dichroic glass—a material invented by NASA—to create magical "in between" spaces. Designed to complement AIB's unique architecture, her otherworldly intervention on the National Mall will ask the public to embrace the moment when the present constantly changes into the future.

Within the exhibition's Futures that Unite hall, Devan Shimoyama (b. 1989, Philadelphia) will create a moment of reflection in response to the tumult and tragedy brought on by racial violence and the COVID-19 pandemic. His shimmering, soaring "The Grove," will be an imagined future monument to the year 2020, inviting visitors to enter a meditative forest-like space, take a moment to forgive, breathe, pause, and heal. Using "DIY" utility poles, dangling shoes, and silk flowers, "The Grove" references community traditions of spontaneous memorials and will be adorned with thousands of Swarovski crystals to offer a sense of light, magic, and the divine in witness to lives lost.

Shimoyama's mixed-media practice frequently imbues a sense of community, solidarity, commemoration and identity at the intersection of Blackness and queerness. "The Grove" will represent both a singular, internal mourning for collective trauma and the healing power of empathy and hope.

Nettrice Gaskins (b. 1970, Baltimore) is an African American digital artist, researcher and educator who uses algorithms and machine learning as her media, exploring what she calls "techno-vernacular creativity." For "FUTURES," Gaskins created a series of 11 portraits of "Featured Futurists" who are included in the exhibition. To make these intricate works, Gaskins combines an image of each subject with an A.I. neutral network application called Deep Dream, which synthesizes images and patterns to create new aesthetic vocabulary beyond the scope of human thought. The resulting images open new frontiers of artistic expression while posing moral and ethical questions about future uses of A.I.

The installations by Cortez, Park, Shimoyama, and Theil are made possible by the Suzanne Nora Johnson and David Johnson Foundation. Park's "Expanded Present" is also supported by the Smithsonian Asian Pacific American Initiatives Pool and global architecture and design firm Gensler.

About "FUTURES"

Designed by architect David Rockwell and his award-winning firm Rockwell Group, "FUTURES" will fill the historic Arts and Industries Building with 32,000 square feet of new artworks, interactives, prototypes, inventions, and "artifacts of the future," as well as historic objects and discoveries from 23 of the Smithsonian's museums and research centers. It will showcase stories of future-makers who are working tirelessly towards a more equitable, peaceful and sustainable world—inventors and creators, activists and organizers—with a special focus on communities who may not have always had a voice in future-making. Visitors will be able to glimpse how past visions have shaped where we are today, as a way to imagine their own version of humanity's next chapter. 

A digital "FUTURES" Guide by award-winning firm Goodby Silverstein & Partners will launch late summer 2021 in advance of the exhibition opening. A full slate of dynamic, future-forward performances, pop-ups, virtual events, workshops and late-night experiences will also be announced.

"FUTURES" is made possible by a select group of partners and supporters: Amazon Web Services, Autodesk, Bell Textron Inc., Jacqueline B. Mars, John and Adrienne Mars, the Embassy of the State of Qatar, David M. Rubenstein and SoftBank Group Corp. Major support is also provided by Accenture, the Annenberg Foundation, Bloomberg Philanthropies, Kevin S. Bright and Claudia W. Bright and Robert Kogod. Additional funding is provided by John Brock III, Wendy Dayton, Nancy Hogan and Lyda Hill Philanthropies.

About the Arts and Industries Building

The Arts and Industries Building (AIB) opened in 1881 as the country's first National Museum, an architectural icon in the heart of the National Mall. Its soaring halls introduced millions of Americans to wonders about to change the world—Edison's lightbulb, the first telephone, Apollo rockets. Dubbed "Palace of Wonders" and "Mother of Museums," AIB incubated new Smithsonian museums for over 120 years before finally closing to the public in 2004. "FUTURES" is a milestone first step in the long-term plan to renovate and permanently reopen this landmark space.