October 5, 2021
Smithsonian's New "FUTURES" Will Blast Through the Space-Time Continuum To Open Saturday, Nov. 20
First Major Exploration of the Future on the National Mall To Launch With 'FUTURES Remixed' Festival, Featuring Bill Nye, Pattie Gonia, SHAED, HBO Max's "Legendary," Kal Penn and More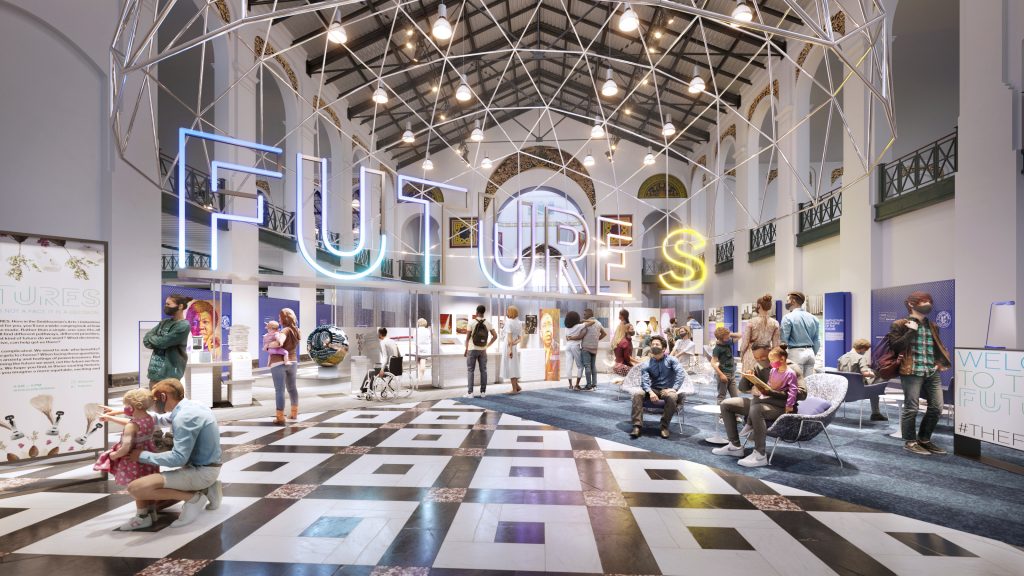 The historic Arts and Industries Building (AIB), America's first National Museum, will open its groundbreaking new museum experience "FUTURES" Saturday, Nov. 20. On view through July 6, 2022, "FUTURES" is the Smithsonian's first major building-wide exploration of the future and will temporarily reopen the Smithsonian's oldest museum for the first time in nearly two decades.

The part-exhibition, part-festival will celebrate the Smithsonian's 175th anniversary with more than 150 awe-inspiring objects, ideas, prototypes and installations that fuse art, technology, design and history to help visitors imagine many possible futures on the horizon.

"FUTURES" officially kicks off with "FUTURES Remixed," a free opening festival spanning the month of November and culminating in a free public concert on opening day, Saturday, Nov. 20. Through multiple portals onsite, around the Washington, D.C., and streamed globally, "FUTURES Remixed" will invite people of all ages to experience a radically imagined future when those of diverse perspectives come together to learn, problem solve and create.

Starting in early November:

"FUTURES on the Move" portals open in early November around Washington: To give Washingtonians a small taste of what is to come, look for creative wheatpasting (a type of street art) and soundscape "portals" to pop up in all of the city's eight wards, part of AIB's "FUTURES on the Move" initiative to bring the exhibition out into the city. The campaign features local community luminaries like award-winning chef Erik Bruner-Yang, 9-year-old rap prodigy Fly Zyah, Washington-based artist Trap Bob, and more, along with a "future of music" mix by deaf artist and advocate DJ SupaLee. The public can visit each portal and share "What the FUTURES mean to me?" for a chance to be featured in on AIB's social media channels: @SmithsonianAIB, #TheFUTURES.

For opening weekend Nov. 19–21, save the dates for:

"Live World Premiere Tour of FUTURES with Bill Nye," Friday, Nov. 19, 11 a.m. EST: Science luminary Bill Nye will kick things off by streaming the first look at "FUTURES," free for all on social media, bringing his insights into the future of space, climate and more.

"Unexpected Conversations," Friday, Nov. 19, evening: The night before doors open, everyone is invited to take a seat at the live-streamed virtual table of "Unexpected Conversations," a wildly unconventional sharing of bold ideas to change the future, with special guests from the worlds of music, art, science, and activism, including Planetary CEO Bill Nye; Smithsonian Secretary Lonnie Bunch; actor/comedian, author and White House appointee Kal Penn; environmental advocate drag queen Pattie Gonia; 2021 National Spelling Bee champion Zaila Avant-garde; co-executive producer of the HBO Max series Legendary and ballroom icon Jack Mizrahi; and more.
"Call and Response Concert," Saturday, Nov. 20, evening: The biggest celebration of the weekend is a free indoor/outdoor and streamed concert-turned-sonic exploration. Inspired by the vibrant dynamism of Washington's go-go music scene, this next generation sound experience will push genre boundaries to create an audiovisual journey through the music of the future, featuring certified platinum indie pop trio SHAED, a special performance from the cast of the HBO Max series "Legendary," a curated GoGo experience, rapper and biologist Mariah the Scientist, DJ Bright Light Bright Light, celebrated street drummer and America's Got Talent semifinalist Malik Dope and much more.
"FUTURES Remixed Family Day," Sunday, Nov. 21, all day: A day for the littlest future-makers invites families of all types for fun pop-up guided activities and bite size experiences celebrating the everyday magic of futures ahead of everyone.
To get the newest lineup announcements and to join the weekend's RSVP list, go to futuresremixed.com, which will also serve as the livestreaming destination for all the programs for the duration of the weekend. "FUTURES Remixed" is made possible by entertainment sponsor Events DC.
"FUTURES" will be open Sunday, Monday, Wednesday, and Thursday 10 a.m.–5:30 p.m. (closed Tuesday), with extended weekend hours on Friday and Saturday 10 a.m.–7 p.m. Admission will be free, and no timed tickets are currently required.
The exhibition's full slate of future-forward public events will be announced on a monthly basis starting in November. Every Friday evening, AIB will also host "Fridays at FUTURES," a community gathering for pop-up talks, surprises, and constantly changing drop-in activities.
For more information and to plan a visit, the public can go to aib.si.edu.

About "FUTURES"

Designed by architect David Rockwell and his award-winning firm Rockwell Group, "FUTURES" will fill the historic Arts and Industries Building with 32,000 square feet of new artworks, interactives, prototypes, inventions, and "artifacts of the future," as well as historic objects and discoveries from 23 of the Smithsonian's museums and research centers. It will showcase stories of future-makers who are working tirelessly towards a more equitable, peaceful and sustainable world—inventors and creators, activists and organizers—with a special focus on communities who may not have always had a voice in future-making. Visitors will be able to glimpse how past visions have shaped where we are today, as a way to imagine their own version of humanity's next chapter.

A digital "FUTURES" Guide by award-winning firm Goodby Silverstein & Partners will launch in early 2022.

"FUTURES" is made possible by a select group of sponsors and supporters: Amazon Web Services, Autodesk, Bell Textron Inc., Jacqueline B. Mars, John and Adrienne Mars, the Embassy of the State of Qatar, David M. Rubenstein, and SoftBank Group. Major support is also provided by the Annenberg Foundation, Bloomberg Philanthropies, Kevin S. Bright and Claudia W. Bright, and Robert Kogod. Additional funding is provided by Accenture, John Brock III, Events DC, First Solar, Ford Motor Company, Wendy Dayton, Charlie and Nancy Hogan, the Suzanne Nora Johnson and David Johnson Foundation, Lyda Hill Philanthropies, MedWand Solutions, National Football League, the National Football Players Association, and Oracle.

About the Arts and Industries Building

The Arts and Industries Building (AIB) opened in 1881 as the country's first National Museum, an architectural icon in the heart of the National Mall. Its soaring halls introduced millions of Americans to wonders about to change the world—Edison's lightbulb, the first telephone, Apollo rockets. Dubbed "Palace of Wonders" and "Mother of Museums," AIB incubated new Smithsonian museums for over 120 years before finally closing to the public in 2004. "FUTURES" is a milestone first step in the long-term plan to renovate and permanently reopen this landmark space. For more information, visit aib.si.edu. Follow the museum on Facebook, Instagram, and Twitter.