Skip to main content
Arts + Industries Building Fact Sheet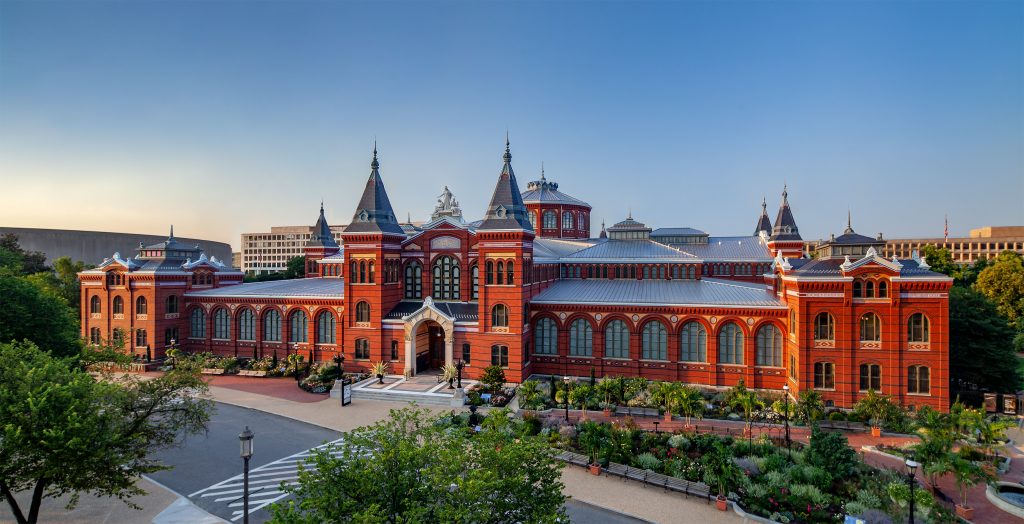 Director: Rachel Goslins
Staff: 13 (10 full time trust, 3 part-time)
Location: 900 Jefferson Dr SW, Washington, DC 20560
Background
The Smithsonian's Arts + Industries Building ("AIB") is both the Smithsonian's oldest and newest museum. Built in part with ticket proceeds from the 1876 Centennial Exposition in Philadelphia, it opened in 1881 as the country's first National Museum, and the first Smithsonian museum on the Mall. AIB debuted as a bold experiment to showcase the latest ideas that were about to change the world-introducing millions to the steam engine, Edison's lightbulb, and Bell's telephone. Over time, the building served as a home for many Smithsonian collections which then grew into their own museums on the National Mall, including the National Museum of Natural History, National Museum of American History, and National Air and Space Museum.
Renovation
AIB was closed to the public in 2004 and again between 2011-2014 for a $50M exterior/structural renovation. The building is currently closed for renovation work in preparation for the 2021 FUTURES exhibition. Plans are underway for large-scale capital project and renovation to begin in 2022 as a joint project with the Smithsonian Castle renovation.
Exhibition
In 2021, as a centerpiece of the Smithsonian's 175th anniversary, AIB will debut the Smithsonian's first major exhibition devoted to the future. A powerful, immersive experience, FUTURES will highlight a vast array of emerging technologies, inventions, and ideas that are doorways into humanity's next chapter. Visitors will be invited to explore unique, architecturally stunning 'pavilions' that present different possible futures. Part exhibition, part festival, FUTURES will draw from collections and research across the Smithsonian as well as universities, artists, and companies to present immersive experiences, artworks, interactives, historic objects, and speculative inventions that will ask how the world might work, live, play, and even travel through space and time.
Public Events and Programs
Since 2016, the AIB team has created programs and events to open the building up to the public 2-3 times per year. The building has twice hosted the sold-out, signature event "The Long Conversation," a radically different speaking program where conversationalists trade-off for short talks unified by a common question. AIB was the first headquarters for the By The People Festival and the first Smithsonian to participate in a pre-dawn Daybreaker DC dance party. The building has also housed the Smithsonian Folklife Festival, two installations of the Smithsonian Secretary, and other Smithsonian events.
About AIB
Currently closed for renovation, the Arts + Industries Building is located next to the Smithsonian Castle along the south side of the National Mall at Independence Avenue and 9th Street S.W. The entrance may be accessed from the Mall and Jefferson Drive. The nearest Metro stops are L'Enfant Plaza on the Green, Yellow, Blue and Orange lines (Maryland Avenue exit) and Smithsonian on the Blue, Orange, and Silver lines.